CADENAS technology simplifies access to planning data for mechanical engineers using Siemens industrial products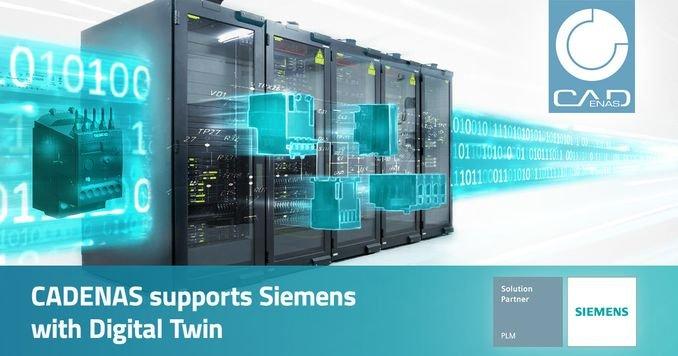 ADENAS GmbH, a software specialist for digital CAD product catalogs, now provides planning data for automation and switching technology products from Siemens via its platform for 3D CAD models. Users of Siemens PLM solutions will now have direct access to digital Siemens components such as switches, controls, relays etc., which are available within Siemens NX, Solid Edge, Teamcenter as well as the CADENAS portal, enabling engineers to quickly integrate them into their product designs.
Intelligent CAD data as an important step towards Industry 4.0
With its portfolio of services, the Siemens technology group is considered a pioneer in Industry 4.0. Siemens is demonstrating what is possible in this area by providing a portfolio of hardware and software products that enable a seamless data link between development, production and suppliers. "Siemens plays a pioneering role when it comes to comprehensively representing constructions as digital twins. Intelligent, native 3D CAD data of the individual components are required to simulate and optimize the virtual representation of a design in advance. Here CADENAS, with its many years of know-how in the creation of digital parts catalogs, makes another important contribution to the holistic implementation of the Industry 4.0 strategy of Siemens," explains Thorsten Reichenberger, Senior Business Development Digital Business at Siemens.
Step-by-step enrichment of digital parts data from Siemens components
Today, automation and low-voltage switchgear from Siemens comprises more than 50,000 products and systems. Access to planning data and CAD data for these components was previously only possible via Siemens' own online platform, the Siemens Industry Mall. In order to use the planning data in NX, Solid Edge or Teamcenter, a manual import was necessary. The planning data itself was mostly available in the neutral STEP format.
As part of the cooperation between Siemens and CADENAS, the first step was to make the basic data available within the CADENAS platform which is also integrated directly into NX, Solid Edge and Teamcenter as a component library. Users of the Siemens PLM solutions can now find these components with just a few clicks and insert them directly into their product design without changing systems or the need to store the files locally. Additionally, the digital product catalog is available via various channels: The online download portal at https://siemens.partcommunity.com, the Strategic Parts Management PARTsolutions and in the mobile app for 3D CAD models from CADENAS.
"As an OEM partner of Siemens, we can make a significant contribution with our many years of know-how from over 800 successful catalog projects to further extend Siemens' lead in Industry 4.0," says Walter Leder, COO of CADENAS GmbH.
Simulation of systems with the Mechatronics Concept Designer
Software solutions for simulation, such as the Mechatronics Concept Designer (MCD) from Siemens PLM, make a decisive contribution on the way to Industry 4.0: As an integrated solution for automation development within the 3D CAD software NX, the MCD in combination with the intelligent digital components from CADENAS, enables virtual testing of the commissioning of technical systems in advance and digital coordination of the control system details. This significantly shortens the lead time until the start of production.
"The aim of the cooperation between CADENAS and Siemens is to support manufacturing companies by improving the flexibility and efficiency of their design and production processes, helping bring products to market faster. This consistently increases efficiency, minimizes the error rate and significantly shortens development cycles. All in all, this means a sustained increase in competitiveness for companies," says Reichenberger.
The new 3D CAD models download portal from Siemens is available to CAD users at https://siemens.partcommunity.com.
About Siemens AG
Siemens AG (Berlin and Munich) is a global technology powerhouse that has stood for engineering excellence, innovation, quality, reliability and internationality for more than 170 years. The company is active around the globe, focusing on the areas of intelligent infrastructure for buildings and distributed energy systems, and automation and digitalization in the process and manufacturing industries. Through the separately managed companies Siemens Energy, the global energy business of Siemens, and Siemens Mobility, a leading supplier of smart mobility solutions for rail and road transport, Siemens is shaping the energy systems of today and tomorrow as well as the world market for passenger and freight services. Due to its majority stakes in the publicly listed companies Siemens Healthineers AG and Siemens Gamesa Renewable Energy (as part of Siemens Energy), Siemens is also a world-leading supplier of medical technology and digital healthcare services as well as environmentally friendly solutions for onshore and offshore wind power generation. In fiscal 2019, which ended on September 30, 2019, Siemens generated revenue of €86.8 billion and net income of €5.6 billion. At the end of September 2019, the company had around 385,000 employees worldwide. Further information is available on the Internet www.siemens.com.
Über die CADENAS GmbH
CADENAS is a leading software developer in the areas of Strategic Parts Management and parts reduction (PARTsolutions), as well as Electronic Product Catalogs (eCATALOGsolutions). With its customized software solutions, the company acts as a link between the component manufacturers with their products and the purchasers.
With its 380 employees at 18 international subsidiaries, the name CADENAS (Spanish: process chains) has been standing for success, creativity, support and process optimization since 1992.
More information can be found on our homepage at: www.cadenas.de/en
Firmenkontakt und Herausgeber der Meldung:
CADENAS GmbH
Schernecker Str. 5
86167 Augsburg
Telefon: +49 (821) 258580-0
Telefax: +49 (821) 258580-999
http://www.cadenas.de
Ansprechpartner:
Presse
Telefon: +49 821 258580-500
E-Mail: presse@cadenas.de
Für die oben stehende Pressemitteilung ist allein der jeweils angegebene Herausgeber (siehe Firmenkontakt oben) verantwortlich. Dieser ist in der Regel auch Urheber des Pressetextes, sowie der angehängten Bild-, Ton-, Video-, Medien- und Informationsmaterialien. Die United News Network GmbH übernimmt keine Haftung für die Korrektheit oder Vollständigkeit der dargestellten Meldung. Auch bei Übertragungsfehlern oder anderen Störungen haftet sie nur im Fall von Vorsatz oder grober Fahrlässigkeit. Die Nutzung von hier archivierten Informationen zur Eigeninformation und redaktionellen Weiterverarbeitung ist in der Regel kostenfrei. Bitte klären Sie vor einer Weiterverwendung urheberrechtliche Fragen mit dem angegebenen Herausgeber. Eine systematische Speicherung dieser Daten sowie die Verwendung auch von Teilen dieses Datenbankwerks sind nur mit schriftlicher Genehmigung durch die United News Network GmbH gestattet.