ISO Software Systeme wins the Siemens Healthineers Quality Award 2020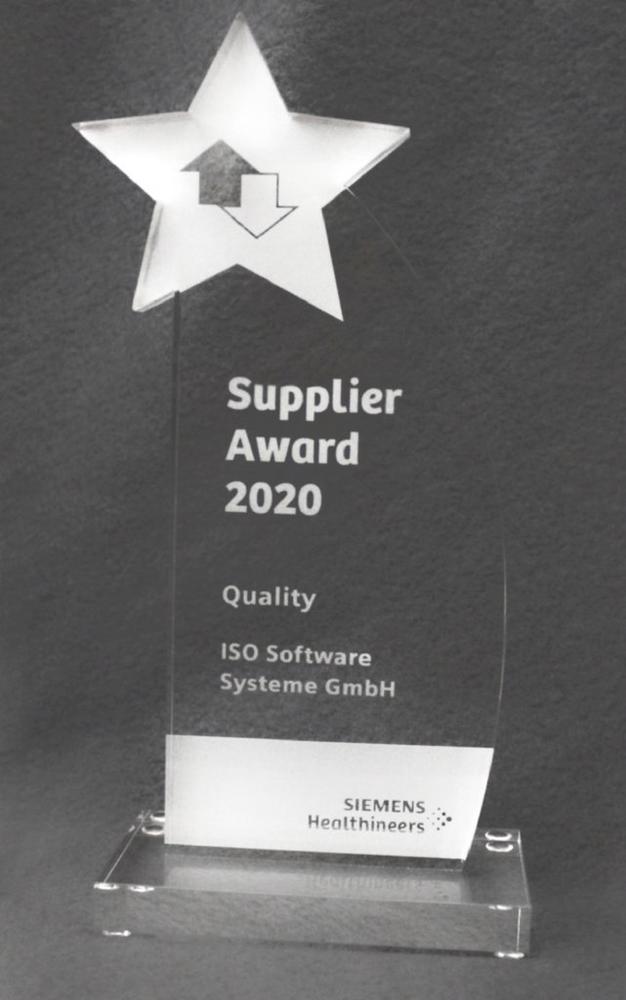 ISO Software Systeme's Medical Technology Division, a Siemens Healthineers' supplier, has won the annual Supplier Award in the "Quality" category.
Siemens Healthineers honors its partners for excellent performance during their annual Global Supplier Day. The company awards their partners in five different categories: quality, collaboration & competitiveness, technology & innovation, logistics and overall performance. This year, the ISO Software Systeme received the sought-after supplier award in the prestigious Quality category.
"ISO Software Systeme fulfills the necessary quality and delivery performance criteria with extraordinarily good results. The company also provides innovation power, a vital factor in an environment where software is not just a part of a system but gains more and more importance as an independent product. This is the decisive factor. ISO Software Systeme's rating was 97 out of 100 quality points." illustrates Holger Schmidt, Siemens Healthineers Head of Quality.
This score is determined by yearly evaluations handed in by all the Siemens divisions, for which ISO Software Systeme is a supplier. An average score is determined from all the submitted evaluations. Assessment of both quality agreements and service & support, among other criteria, are taken into consideration for the Quality Award.
"We consider this a result of our longstanding, very good performance and a recognition of the high quality that our employees deliver in each of the customer projects at Siemens Healthineers," commented Claus Bogner, Managing Director and Member of the Management Board of the ISO-Gruppe about the Quality Supplier Award.
Über die ISO Software Systeme GmbH
The ISO Software Systeme GmbH has established a solid reputation as a major player in IT consultancy, software development and related services. Software development with a focus on Java, Microsoft and Oracle is our core competence – for our own products as well as on behalf of our customers. ISO Software Systeme addresses primarily the fields of automation technology, medical engineering, as well as airlines, Air Traffic Control, and airport operators – incl. multi-airport projects.
ISO has been active in the market since 1979 and has since developed into a versatile, international IT service provider. Targeting specific markets has resulted in several powerful and innovative companies under the umbrella of the ISO-Gruppe. Today, the ISO-Gruppe includes ISO Software Systems (specialized in software engineering and IT consulting), ISO Professional Services (an SAP specialist), ISO Travel Solutions (an IT expert for the tourism industry), ISO Recruiting Consultants (a provider of IT personnel services), and ISO Public Services (IT services for e-government).
Some 610 permanent employees work at several sites throughout Germany as well as in associate companies in Austria, Poland and Canada. The companies ISO Software Systeme, ISO Travel Solutions and ISO Professional Services of the ISO-Gruppe, with their respective offices in Nuremberg, Munich and Frankfurt, are certified to the requirements of their quality management system in accordance with DIN EN ISO 9001:2015.
For more information, please visit: www.iso-gruppe.com
Ansprechpartner:
Oliver Haake
Marketing Manager
Telefon: +49 (911) 99594-0
Fax: +49 (911) 99594-129
E-Mail: oliver.haake@iso-gruppe.com
Für die oben stehende Pressemitteilung ist allein der jeweils angegebene Herausgeber (siehe Firmenkontakt oben) verantwortlich. Dieser ist in der Regel auch Urheber des Pressetextes, sowie der angehängten Bild-, Ton-, Video-, Medien- und Informationsmaterialien. Die United News Network GmbH übernimmt keine Haftung für die Korrektheit oder Vollständigkeit der dargestellten Meldung. Auch bei Übertragungsfehlern oder anderen Störungen haftet sie nur im Fall von Vorsatz oder grober Fahrlässigkeit. Die Nutzung von hier archivierten Informationen zur Eigeninformation und redaktionellen Weiterverarbeitung ist in der Regel kostenfrei. Bitte klären Sie vor einer Weiterverwendung urheberrechtliche Fragen mit dem angegebenen Herausgeber. Eine systematische Speicherung dieser Daten sowie die Verwendung auch von Teilen dieses Datenbankwerks sind nur mit schriftlicher Genehmigung durch die United News Network GmbH gestattet.