New DispensingCell DC803: Highest performance in series production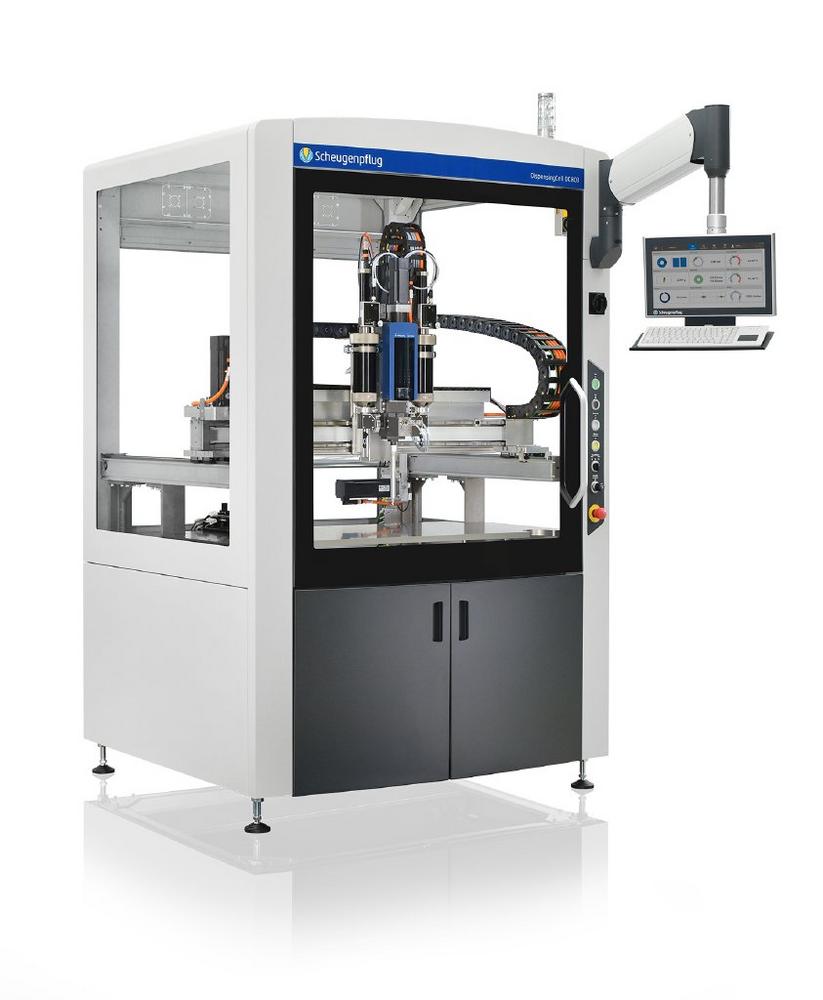 Scheugenpflug offers a new, powerful cell solution for demanding dispensing tasks. The DispensingCell DC803 was specially designed to meet the requirements of industrial series production with high quantities and short cycle times. It can be flexibly adapted in scope of features and degree of automation and can be used both as a stand-alone and inline variant.
The encapsulation of varying components, changing capacities or lack of space on the production shop floor: The demands placed on adhesive bonding, sealing and potting processes are becoming increasingly individual. Against this background, the possibility of efficient and economical adaptation of the dispensing system plays a decisive role.
With the DispensingCell DC803 a new, powerful multifunctional cell is available for demanding dispensing applications. This system can be used to cover numerous tasks, ranging from potting and the application of liquid seals and adhesives to the sealing of sensitive electronic surfaces. The cell is the further development of the reliable CNCell from Scheugenpflug and has been tailored even more precisely to the requirements of industrial series production.
High flexibility for medium to large quantities
The DispensingCell DC803 has been designed especially for productions with medium to high quantities. The servo motor technology and the high-performance axis system allow high traversing speeds and thus short cycle times for matrix and bead applications. The plug-and-produce principle ensures fast commissioning.
The new multifunctional cell is based on standardized modules that are individually assembled according to customer specifications. It can be combined with all Scheugenpflug dispensers and material preparation and/or feeding units. This allows for a very individual and customer-specific system planning.
The scope of features and degree of automation of the DispensingCell DC803 can also be flexibly adapted: In addition to being used as a stand-alone system, its inline variant can be integrated directly into existing production lines. The cell can also be equipped with additional equipment such as handling systems or joining technology. In order to ensure reliable dispensing results numerous options for process monitoring are available.
All relevant data constantly in view
The integrated control unit UViS5 allows for simple and intuitive cell operation. Users have a continuous overview of all relevant process data on a 15.6" multi-touch display. Predefined functions for the most common dispensing tasks and a quick access to relevant process parameters ensure greater efficiency. The optional UPiC5 programming tool complements and extends the UViS5 operating software. With this tool users can quickly and easily create complex dispensing programs.
Über die Scheugenpflug GmbH
Scheugenpflug AG (Neustadt/Donau) is a leading manufacturer of precision engineered systems and machines for efficient adhesive bonding, dispensing and potting processes. The product and technology range extends from cutting-edge material preparation and feeding units and high performance manual work stations and dispensing cells to modular in-line and automation solutions, specially tailored to customer specifications. Scheugenpflug systems are used in the automotive and electronics industries as well as the telecommunications sector, medical technology and energy supply. The company has additional locations in China, the US, Mexico and Romania as well as numerous service locations and sales partners all over the world. Due to its considerable expansion, Scheugenpflug was able to double its workforce within 5 years and now employs more than 600 people.
Ansprechpartner:
Karin Prechtner
Marketing / PR
Telefon: +49 (9445) 9564-295
E-Mail: karin.prechtner@scheugenpflug-dispensing.com
Für die oben stehende Pressemitteilung ist allein der jeweils angegebene Herausgeber (siehe Firmenkontakt oben) verantwortlich. Dieser ist in der Regel auch Urheber des Pressetextes, sowie der angehängten Bild-, Ton-, Video-, Medien- und Informationsmaterialien. Die United News Network GmbH übernimmt keine Haftung für die Korrektheit oder Vollständigkeit der dargestellten Meldung. Auch bei Übertragungsfehlern oder anderen Störungen haftet sie nur im Fall von Vorsatz oder grober Fahrlässigkeit. Die Nutzung von hier archivierten Informationen zur Eigeninformation und redaktionellen Weiterverarbeitung ist in der Regel kostenfrei. Bitte klären Sie vor einer Weiterverwendung urheberrechtliche Fragen mit dem angegebenen Herausgeber. Eine systematische Speicherung dieser Daten sowie die Verwendung auch von Teilen dieses Datenbankwerks sind nur mit schriftlicher Genehmigung durch die United News Network GmbH gestattet.