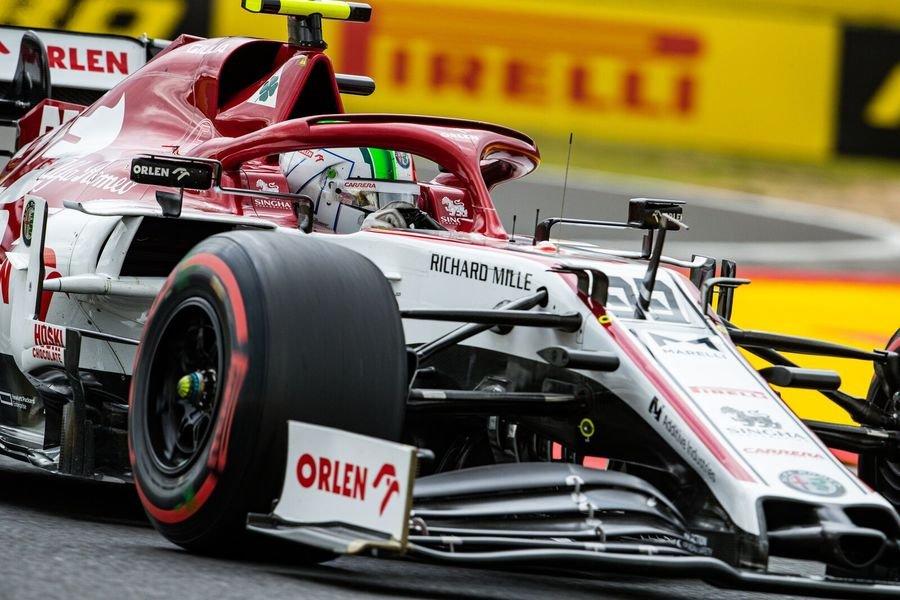 Weather: FP3: overcast 17.1-18.4°C air, 23.6-28.4°C track; Q: overcast, 18.7-18.8°C air, 27.8-25.7°C track
There are some days in which everything that could go against you, does. These days are the embodiment of Murphy's Law, occasions in which the world is out to get you, no matter what you do. Today was one of those days.
Lining up on the last row of the grid is never ideal; to do so in Hungary, even more so. It is a result that cannot make us happy, of course: but it is also one that will not sap our motivation to get back to the places where we belong.
On these days, it's our team spirit that needs to come through. And tomorrow, come rain or shine, we'll be there. We'll pull ourselves back up, wipe the dust off our shirt and fight for a better place at the end of the race.
Frédéric Vasseur, Team Principal Alfa Romeo Racing ORLEN and CEO Sauber Motorsport AG: "Today's performance is far from where we expected to be and we will need to find the reasons for this result. We had made steps forward in the two races in Austria but we still have a lot of work ahead of us to get to the level where we need to be. The race tomorrow will be difficult: we hope to have better pace, but starting on the back row, Kimi and Antonio will have their work cut out. We'll still give 100%, though, and see where that gets us."
Kimi Räikkönen (car number 7):
Alfa Romeo Racing ORLEN C39 (Chassis 02/Ferrari)
3rd practice: 19th / 1:17.527 (25 laps) Q: 20th / 1:16.614 (12 laps)
"We are still far from where we need to be. We need to analyse what went wrong and figure out how we get back from there. We have quite a bit of work to do in all areas, we need to get our speed back. Tomorrow is another day, even though it won't be an easy Sunday, so let's see what we can do."
Antonio Giovinazzi (car number 99):
Alfa Romeo Racing ORLEN C39 (Chassis 04/Ferrari)
3rd practice: 18th / 1:17.496 (20 laps) Q: 19th / 1:16.506 (12 laps)
"It's been a very difficult day with a disappointing result. We have a lot of work to do to salvage something from this weekend, but we will need to see how the race goes tomorrow. The conditions are still uncertain, but in any case we need to understand what happened today. Starting from the back is not ideal, especially on a track where overtaking is not easy, but we can hope to have better pace in the race, as we did in Austria."
Über die Sauber Motorsport AG
The Sauber Group of Companies is composed of three operational entities: Sauber Motorsport AG, which operates and manages the Alfa Romeo Racing ORLEN Formula One team; Sauber Engineering AG, which focuses on prototype development and additive manufacturing; and Sauber Aerodynamik AG, which conducts full and model-scale testing in the factory's state-of-the-art wind tunnel and creates ground-breaking innovations in the field of aerodynamics. The companies collaborate closely and share know-how to apply the expertise of more than 500 dedicated individuals at the headquarter in Hinwil, Switzerland, to all internal and external projects. Since its founding in 1970, the passion for racing has been at the heart of Sauber.
For the last 50 years, the innovative Swiss company has been setting standards in the design, development and construction of race cars for various championship series, such as Formula One, DTM, and WEC. Following its own Formula One debut in 1993, Sauber Motorsport AG has established one of the few traditional and privately held teams in the sport. After 25 years of competition in Formula One, the company launched a long-term partnership with Alfa Romeo in 2018 and enters the 2020 championship under the new team name Alfa Romeo Racing ORLEN.
Firmenkontakt und Herausgeber der Meldung:
Sauber Motorsport AG
Wildbachstrasse 9
CH8340 Hinwil
Telefon: +41 (44) 93790-00
Telefax: +41 (44) 93790-01
http://www.sauberf1team.com
Ansprechpartner:
Will Ponissi
Senior Communications Manager
E-Mail: william.ponissi@sauber-group.com
Katharina Rees
Communications Manager
Telefon: +41 (79) 75752-85
E-Mail: katharina.rees@sauber-group.com
Für die oben stehende Pressemitteilung ist allein der jeweils angegebene Herausgeber (siehe Firmenkontakt oben) verantwortlich. Dieser ist in der Regel auch Urheber des Pressetextes, sowie der angehängten Bild-, Ton-, Video-, Medien- und Informationsmaterialien. Die United News Network GmbH übernimmt keine Haftung für die Korrektheit oder Vollständigkeit der dargestellten Meldung. Auch bei Übertragungsfehlern oder anderen Störungen haftet sie nur im Fall von Vorsatz oder grober Fahrlässigkeit. Die Nutzung von hier archivierten Informationen zur Eigeninformation und redaktionellen Weiterverarbeitung ist in der Regel kostenfrei. Bitte klären Sie vor einer Weiterverwendung urheberrechtliche Fragen mit dem angegebenen Herausgeber. Eine systematische Speicherung dieser Daten sowie die Verwendung auch von Teilen dieses Datenbankwerks sind nur mit schriftlicher Genehmigung durch die United News Network GmbH gestattet.