Commerzbank and BayernLB finance two office buildings in the Lenbach Gardens in Munich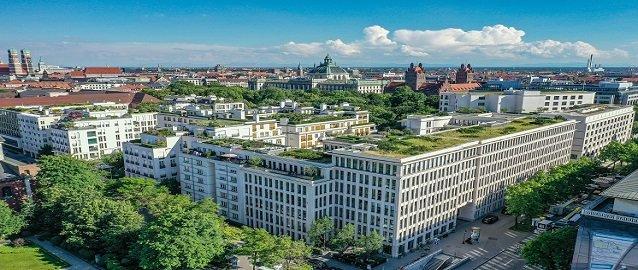 In March 2020, Hines Immobilien GmbH, on behalf of two institutional investors, managed the acquisition of the two premium office buildings "Sophie" and "Karl" in the Lenbach Gardens in Munich. At the beginning of July 2020, BayernLB and Commerzbank granted a loan in the three-digit million range to the property companies for the partial refinancing of the investment. The loan was divided equally between the lenders. Commerzbank also acted as Arranger and Security Agent in the consortium. Facility Agent is Commerzbank Finance & Covered Bond S.A..
The two buildings called "Sophie" and "Karl", with a total of around 30.000 m² of rental space, are part of the Lenbach Gardens in Munich. The Lenbach Gardens located in the heart of the Bavarian state capital combine living and working in one neighbourhood. The high-quality and architecturally harmonious design of this neighbourhood in a prominent location near Stachus places the Lenbach Gardens as a real landmark property in the Munich center.
BayernLB and Commerzbank successfully completed the financing in cooperation with investors, Hines Immobilien and the legal advisors.
Siegfried Eschen, Head of the Center of Competence for Commercial Real Estate Finance at Commerzbank commented on the transaction: "We are pleased to provide this financing, in close cooperation with BayernLB, to our long-standing client Hines for such an exciting property in a prominent location in Munich. We look forward to continuing this trusted cooperation.
Bernd Mayer, Head of Real Estate Finance at BayernLB: "We are proud to successfully contribute to the financing of this trophy asset in the middle of Munich. The partnership-based and trusted cooperation and the detailed know-how of all project participants was the essential prerequisite this demanding transaction. The investors have acquired two high-quality buildings in a prime location with sustainable returns."
Christian Meister, Managing Director Hines Immobilien GmbH: "The ensemble Lenbach Gärten is one of the best office properties on the Munich market and we are pleased to have been able to advise the owners on the acquisition and financing of this premium property. Sincere thanks go to the two syndication partners, Commerzbank and BayernLB, for a very quick and constructive financing".
About Bayern LB
BayernLB is a leading commercial bank in Germany and has established itself as a streamlined bank for promising sectors of the German economy. The BayernLB Group is one of the country's top property financiers and asset managers. Through its Real Estate division, a core business area, the Bank finances property in all asset classes – offices, retail space, residential property, logistics centres and managed real estate. BayernLB's customer base is broad, ranging from project developers to private investors and housing companies, through to institutional fund sponsors and asset management companies. BayernLB's banking products include everything from short-term project finance to long-term commercial financing – incorporating government subsidy schemes and in conjunction with syndicate banks and savings banks. BayernLB is there for its real estate customers, both in Germany, elsewhere in Europe und USA. 
Disclaimer
This release contains forward-looking statements. Forward-looking statements are statements that are not historical facts. In this release, these statements concern inter alia the expected future business of Commerzbank, efficiency gains and expected synergies, expected growth prospects and other opportunities for an increase in value of Commerzbank as well as expected future financial results, restructuring costs and other financial developments and information. These forward-looking statements are based on the management's current plans, expectations, estimates and projections. They are subject to a number of assumptions and involve known and unknown risks, uncertainties and other factors that may cause actual results and developments to differ materially from any future results and developments expressed or implied by such forward-looking statements. Such factors include the conditions in the financial markets in Germany, in Europe, in the USA and other regions from which Commerzbank derives a substantial portion of its revenues and in which Commerzbank holds a substantial portion of its assets, the development of asset prices and market volatility, especially due to the ongoing European debt crisis, potential defaults of borrowers or trading counterparties, the implementation of its strategic initiatives to improve its business model, the reliability of its risk management policies, procedures and methods, risks arising as a result of regulatory change and other risks. Forward-looking statements therefore speak only as of the date they are made. Commerzbank has no obligation to update or release any revisions to the forward-looking statements contained in this release to reflect events or circumstances after the date of this release.
Über Commerzbank Aktiengesellschaft
Commerzbank is a leading international commercial bank with branches and offices in nearly 50 countries. The Bank's two business segments – Private and Small-Business Customers and Corporate Clients – offer a comprehensive portfolio of financial services precisely tailored to their customers' needs. Commerzbank transacts approximately 30% of Germany's foreign trade and is the market leader in German corporate banking. The Bank offers its sector expertise to its corporate clients in Germany and abroad and is a leading provider of capital market products. Its subsidiaries, Comdirect in Germany and mBank in Poland, are two innovative online banks. With approximately 800 branches going forward, Commerzbank has one of the densest branch networks in Germany. The Bank serves more than 11 million private and small-business customers nationwide and over 70,000 corporate clients, multinationals, financial service providers, and institutional clients worldwide. Its Polish subsidiary mBank S.A. has around 5.7 million private and corporate customers, predominantly in Poland, but also in the Czech Republic and Slovakia. In 2019, Commerzbank generated gross revenues of €8.6 billion with approximately 48,500 employees.
Firmenkontakt und Herausgeber der Meldung:
Commerzbank Aktiengesellschaft
Kaiserplatz
60311 Frankfurt/Main
Telefon: +49 (69) 136-20
Telefax: +49 (69) 285-389
http://www.commerzbank.com
Ansprechpartner:
Matthias Lücke
Bayern LB
Telefon: +49 (89) 2171-21302
Monika Arens
Pressesprecherin Privatkunden
Telefon: +49 (69) 136-29673
Fax: +49 (69) 136-51232
E-Mail: info@commerzbank.com
Für die oben stehende Pressemitteilung ist allein der jeweils angegebene Herausgeber (siehe Firmenkontakt oben) verantwortlich. Dieser ist in der Regel auch Urheber des Pressetextes, sowie der angehängten Bild-, Ton-, Video-, Medien- und Informationsmaterialien. Die United News Network GmbH übernimmt keine Haftung für die Korrektheit oder Vollständigkeit der dargestellten Meldung. Auch bei Übertragungsfehlern oder anderen Störungen haftet sie nur im Fall von Vorsatz oder grober Fahrlässigkeit. Die Nutzung von hier archivierten Informationen zur Eigeninformation und redaktionellen Weiterverarbeitung ist in der Regel kostenfrei. Bitte klären Sie vor einer Weiterverwendung urheberrechtliche Fragen mit dem angegebenen Herausgeber. Eine systematische Speicherung dieser Daten sowie die Verwendung auch von Teilen dieses Datenbankwerks sind nur mit schriftlicher Genehmigung durch die United News Network GmbH gestattet.