By retrofitting a stamping press, DREHER Automation demonstrates that purchasing a new forming press is not always necessary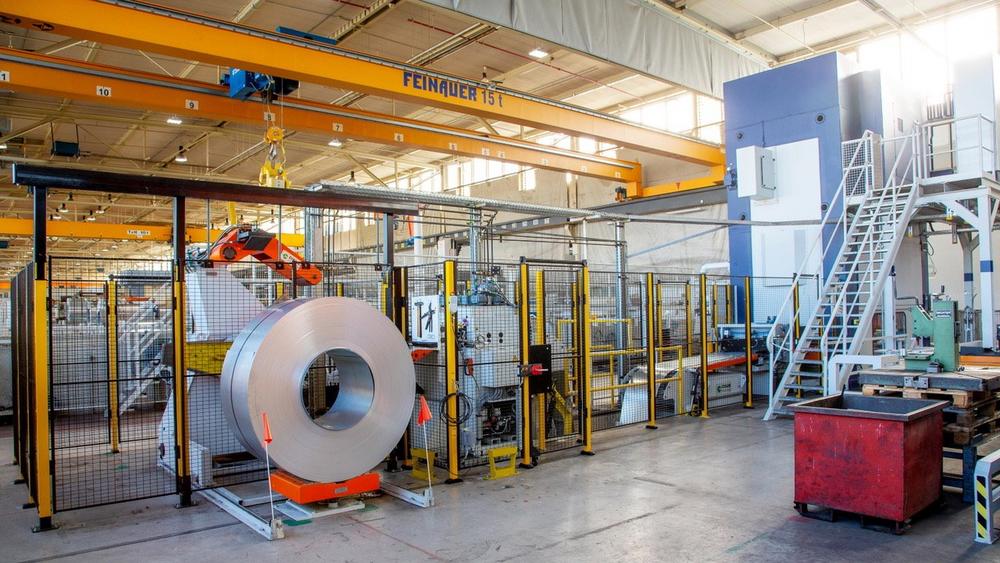 Modern forming presses must meet numerous requirements. But should that always mean purchasing a brand-new forming press? This is usually not possible. Therefore, a one-stop press retrofit of the kind offered by DREHER Automation is often the perfect alternative. Even with an almost 40-year-old stamping press, the experts in press shop automation show that a professional press overhaul can still pay off.
Productivity losses and safety risks in particular indicate the need for an press overhaul
Technological progress is creating continually changing production conditions. As a result, there comes a time when existing machinery is no longer able to meet emerging challenges. By the time productivity losses are imminent or safety breaches have become apparent, plant operators are forced to consider purchasing a new machine.
A manufacturer of electrical kitchen appliances was also faced with this question with regard to a stamping press manufactured in 1982. This press was also showing considerable productivity losses. At the same time, the requirements in terms of product quality and plant safety had risen significantly. In addition to the unavailability of spare parts, the high energy consumption and correspondingly high environmental impact all indicated that it was time to replace the stamping press.
However, rather than purchasing a new system, the decision was taken, in consultation with DREHER Automation's project management, to carry out a press retrofit of the existing system. This involved a comprehensive overhaul of the mechanical forming press (manufactured by Weingarten) with a pressing force of 4,000 kN and the attached coil processing line. The overhaul included, for example, replacement of the coil straightener and coil feeder, as well as a brand-new safety concept with a new CE marking.
On the electrical side, not only was the main press motor replaced, but the outdated system control for the entire stamping press was also completely replaced by a contemporary Siemens S7 control system with modern condition monitoring. This also made it possible to finally integrate the stamping press into the general machine data acquisition system.
Short project duration through press retrofitting while significantly improving performance of existing stamping press
The downtime required for the entire press retrofit was just two weeks. Long delivery times and costs for installing a new forming press were avoided completely.
The press overhaul boosted overall equipment effectiveness (OEE) by five per cent and significantly improved product quality. Granting of the CE marking also considerably increased personnel and plant safety. Moreover, the set-up time was reduced by 10 minutes and the quantity of production-related scrap generated fell by half. Following the press retrofit, the stamping press is now once again fit for the future.
The condition monitoring system will in future record plant performance, condition, energy consumption and pressing force. With production data acquisition and analysis of the acquired data, the stamping press can now be improved even more.
Rather than invest in a new forming press, why not retrofit instead?
With the overhauled stamping press, DREHER Automation demonstrates that purchasing a brand-new forming press is not always necessary. With lower investment costs, shorter project duration and substantially higher productivity with existing machinery, a press retrofit is the perfect alternative.
Would you like to make your existing forming presses fit for the future with DREHER Automation? Visit us at https://www.dreher.de/en-de/service/press-retrofit
Über die Automatic-Systeme Dreher GmbH
Firmenkontakt und Herausgeber der Meldung:
Automatic-Systeme Dreher GmbH
Karl-Drais-Straße 1
72172 Sulz a. N.
Telefon: +49 7454 881-0
Telefax: +49 7454 881-11
https://www.dreher.de
Ansprechpartner:
Julia Fischer
Corporate Communications and Sales
Telefon: +49 7454 881-551
Fax: +49 7454 881-11
E-Mail: j.fischer@dreher.de
Für die oben stehende Pressemitteilung ist allein der jeweils angegebene Herausgeber (siehe Firmenkontakt oben) verantwortlich. Dieser ist in der Regel auch Urheber des Pressetextes, sowie der angehängten Bild-, Ton-, Video-, Medien- und Informationsmaterialien. Die United News Network GmbH übernimmt keine Haftung für die Korrektheit oder Vollständigkeit der dargestellten Meldung. Auch bei Übertragungsfehlern oder anderen Störungen haftet sie nur im Fall von Vorsatz oder grober Fahrlässigkeit. Die Nutzung von hier archivierten Informationen zur Eigeninformation und redaktionellen Weiterverarbeitung ist in der Regel kostenfrei. Bitte klären Sie vor einer Weiterverwendung urheberrechtliche Fragen mit dem angegebenen Herausgeber. Eine systematische Speicherung dieser Daten sowie die Verwendung auch von Teilen dieses Datenbankwerks sind nur mit schriftlicher Genehmigung durch die United News Network GmbH gestattet.