Philippines launches first-ever automated cold chain facility ORCA, powered by SSI Schaefer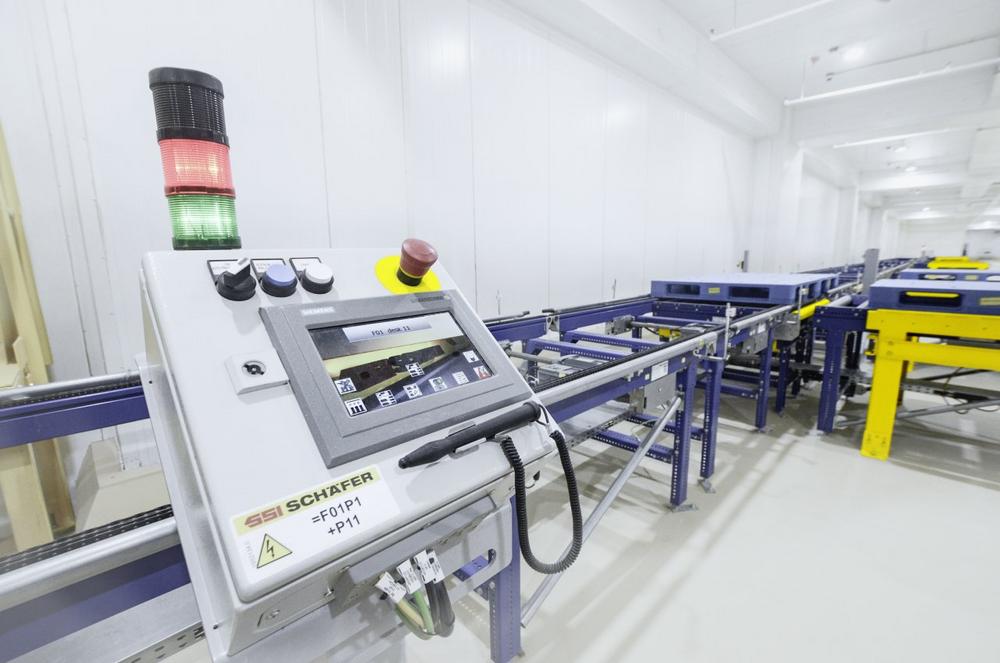 SSI Schaefer, the world's leading provider of modular warehousing and logistics solutions, in cooperation with ORCA, the Philippines' pioneering cold chain solutions provider, announced the opening of the country's first world-class cold chain storage system in February 2020. In the heart of metro Manila's industrial zone, the ORCA Taguig facility significantly increases the country's logistics capacity and preparedness for unforeseen events.
ORCA Cold Chain Solutions is the Philippines' first ever fully automated cold chain facility. It offers temperature-controlled logistics, warehousing and pre- and post-storage value added services to help food businesses and the agriculture industry prolong and maintain the freshness of their produce. Powered by Automated Storage Retrieval System (ASRS), the Taguig development was awarded Pioneer Status by the Bureau of Investments, under the Philippine Government Department of Trade & Industry.
ORCA Taguig has approximately 20,000 pallet positions of frozen storage in roughly a hectare footprint. This is an unprecedented feat and is made possible by the rack-clad technology of SSI Schaefer. With automation, ORCA Taguig can move up to 4,800 pallets in one day. The SSI Schaefer scope of supply comprises an impressive range from the fully automated high bay warehouse with earthquake and typhoon resistant rack-clad technology, conveyor technology, pick to tote workstations to the logistics software WAMAS®.
Currently, ORCA has three facilities in Metro Manila: Alabang, Taguig and the currently being built Caloocan. All three sites are strategically located in the capital of Manila and near ports and industrial zones. The Caloocan ORCA facility will also be fully automated and is currently being built jointly with SSI Schaefer.
ORCA handles frozen and chilled food products. Clients range from the Philippines' biggest fast food chains to exporters and importers and small food entrepreneurs. As a pioneer in the Philippine cold chain and supply chain industry, ORCA selected SSI Schaefer as a partner for its stellar track record in technology as well as in construction and even customer support.
Apart from the hardware, the SSI Schaefer supplied WAMAS warehouse management system provides real-time tracking of the goods. Aside from giving the clients of ORCA much peace of mind, it moreover allows them to efficiently track and move their goods according to a FEFO (First Expiry, First Out) system. Moreover, having accurate records ensures that all goods are accounted for, deterring pilferage, which is one other challenge that is unfortunately present in the country.
In a climate which has a lot of uncertainty, the technology and innovation provided by SSI Schaefer allow ORCA to reassure their clients with higher efficiency standards, accurate reporting, and quality customer service. Agnes Degala, Vice President for Sales & Operations at ORCA Cold Chain Solutions, sums up the successful cooperation, "ORCA is the first and only company in the Philippines to invest this heavily on what we call food infrastructure. With SSI Schaefer, we were able to make this grand vision a reality. As a sales head, we saw how customers gravitated to our brand because of the promise of automation. We also experienced firsthand the market perceive the value that innovation can bring. ORCA is indeed the only one of its kind in our country and together, we hope to create more of these world-class solutions for our nation."
Über SSI SCHÄFER
The SSI Schaefer Group is the world's leading provider of modular warehousing and logistics solutions. It employs approximately 10,500 people at its group headquarters in Neunkirchen (Germany), at eight domestic and international production sites, and at approximately 70 worldwide operative subsidiaries. Across six continents, SSI Schaefer develops and implements innovative industry-specific answers to its customers' unique challenges. As a result, it plays a key role in shaping the future of intralogistics.
SSI Schaefer designs, develops and manufactures systems for warehouses and industrial plants. Its portfolio includes manual and automated solutions for warehousing, conveying, picking and sorting, plus technologies for waste management and recycling. In addition, SSI Schaefer is now a leading provider of modular, regularly updated software for in-house material flows. Its IT team, with a headcount in excess of 1,100, develops high-performance applications, and provides customers with in-depth advice on the intelligent combination of software with intralogistics equipment. SSI Schaefer's broad IT offering, including its own WAMAS® and SAP products, delivers seamless support for all warehouse and material flow management processes. Solutions from SSI Schaefer improve the productivity and efficiency of customer organizations – not least through the highly precise monitoring, visualization and analysis of operational metrics for proactive intralogistics management.
SSI Schaefer offers highly sophisticated, turnkey systems. As an international player, it can deliver one-stop solutions to all four corners of the earth. Its comprehensive portfolio encompasses design, planning, consulting, and customer-specific aftersales services and maintenance.
Firmenkontakt und Herausgeber der Meldung:
SSI SCHÄFER
Fritz-Schäfer-Strasse 20
57290 Neunkirchen / Siegerland
Telefon: +49 (2735) 70-1
Telefax: +49 (2735) 70-396
http://www.ssi-schaefer.de
Ansprechpartner:
Annika Nolte
Junior Project Manager CR & PR | Global Marketing
Telefon: +49 (2735) 70-9683
Fax: +49 (2735) 70-382
E-Mail: Annika.Nolte@ssi-schaefer.com
Melanie-Marie Kämpf
Marketing & Kommunikation
Telefon: +49 (2735) 70-252
Fax: +49 (2735) 70-382
E-Mail: melanie.kaempf@ssi-schaefer.de
Für die oben stehende Pressemitteilung ist allein der jeweils angegebene Herausgeber (siehe Firmenkontakt oben) verantwortlich. Dieser ist in der Regel auch Urheber des Pressetextes, sowie der angehängten Bild-, Ton-, Video-, Medien- und Informationsmaterialien. Die United News Network GmbH übernimmt keine Haftung für die Korrektheit oder Vollständigkeit der dargestellten Meldung. Auch bei Übertragungsfehlern oder anderen Störungen haftet sie nur im Fall von Vorsatz oder grober Fahrlässigkeit. Die Nutzung von hier archivierten Informationen zur Eigeninformation und redaktionellen Weiterverarbeitung ist in der Regel kostenfrei. Bitte klären Sie vor einer Weiterverwendung urheberrechtliche Fragen mit dem angegebenen Herausgeber. Eine systematische Speicherung dieser Daten sowie die Verwendung auch von Teilen dieses Datenbankwerks sind nur mit schriftlicher Genehmigung durch die United News Network GmbH gestattet.