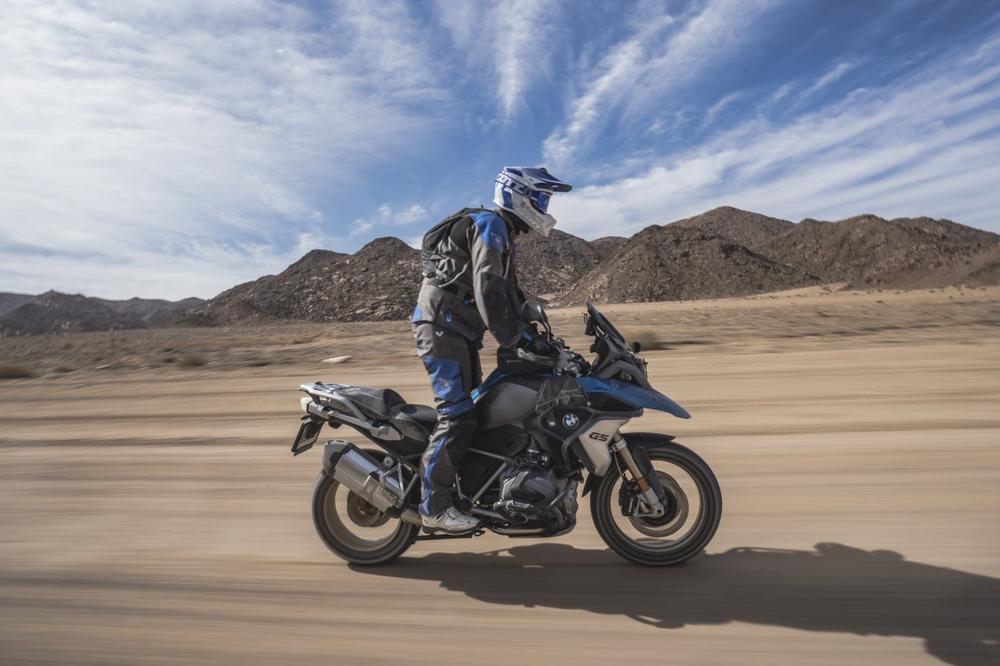 Especially in the summer heat, it is necessary to prevent the physical dehydration on the road and make sure to drink enough. When there is a lack of hydration, the blood becomes "thicker" and flows more slowly. Among other things, the oxygen and nutrient supply of the body suffers as a result, with the consequence that massive physical handicaps can occur: Circulatory problems or conditions of confusion are among them. Both phenomena can be absolutely critical, especially when riding a motorbike, and can have dire consequences, because they can occur almost unnoticed and creepingly without warning for the rider.
Wunderlich has equipped its sports backpack »MOVE« with a comfortable hydration system that allows regular drinking while riding. Without stopping, without wasting time and without any fiddling around with it, dehydration can be reliably prevented.
The drinking system has a large volume of two litres and ensures many thirst-free kilometres on the bike, but also during hiking or sports. The system is PVC-free, food safe and tasteless. It consists of a bag that can be easily and conveniently filled at the tap or by bottle via a well-dimensioned screw cap. The flexible drinking tube is simply laid over the shoulder and – additionally fixed to the carrying strap – led to the mouth. For drinking it is equipped with a bite release valve – it opens when it is squeezed with the teeth. The water quantity can be regulated with the biting pressure. In addition, with this well-thought-out system the connection can be closed by a mechanical valve.
With the comfortable drinking system of the »MOVE« from Wunderlich, motorcyclists on the road are always sufficiently supplied with fluid and prevent the occurrence of unpleasant physical conditions.
The luggage volume of the multifunctional, handy and practical »MOVE« is 11 liters. This provides enough space for provisions, vehicle documents or other equipment – in addition to the drinking system, of course. Wide, comfortable, adjustable carrying straps, carrying loops as well as the hip belt for a flutter-free, secure fit are just as much a matter of course at Wunderlich as the solid manufacturing.
Wunderlich offers the sports backpack »MOVE« for 38.89 € * in black or navy blue in the Wunderlich-App, in the online shop and in the shop of the company headquarters. The hydration system is also available separately.
Important hint:
Anyone who takes part in Wunderlich's cool bag special in the Wunderlich app until the 14th of August 2020 can even win the practical accessory with a little luck.
Item-nos.:
20862-202 – Sports backpack »MOVE« in black (€ 38,89*)
20862-203 – Sports backpack »MOVE« in navy blue (€ 38,89*)
20862-100 – Hydration system for sports backpack »MOVE« (€ 14,52*)
*Prices may vary from country to country
Web links:
www.wunderlich.de/en
www.wunderlich.app
Wunderlich sports backpack MOVE
Hydration system for sports backpack MOVE
YouTube video sports backpack MOVE
Firmenkontakt und Herausgeber der Meldung:
Wunderlich GmbH
Joseph-von-Fraunhofer-Str. 6 – 8
53501 Grafschaft-Ringen
Telefon: +49 (2641) 3082-0
Telefax: +49 (2641) 3082-208
http://www.wunderlich.de/en
Ansprechpartner:
Felix Wunderlich
Prokurist / Leitung Produktmanagement und Entwicklung
Telefon: +49 (2641) 3082-600
E-Mail: f.wunderlich@wunderlich.de
Für die oben stehende Pressemitteilung ist allein der jeweils angegebene Herausgeber (siehe Firmenkontakt oben) verantwortlich. Dieser ist in der Regel auch Urheber des Pressetextes, sowie der angehängten Bild-, Ton-, Video-, Medien- und Informationsmaterialien. Die United News Network GmbH übernimmt keine Haftung für die Korrektheit oder Vollständigkeit der dargestellten Meldung. Auch bei Übertragungsfehlern oder anderen Störungen haftet sie nur im Fall von Vorsatz oder grober Fahrlässigkeit. Die Nutzung von hier archivierten Informationen zur Eigeninformation und redaktionellen Weiterverarbeitung ist in der Regel kostenfrei. Bitte klären Sie vor einer Weiterverwendung urheberrechtliche Fragen mit dem angegebenen Herausgeber. Eine systematische Speicherung dieser Daten sowie die Verwendung auch von Teilen dieses Datenbankwerks sind nur mit schriftlicher Genehmigung durch die United News Network GmbH gestattet.