MICRO CRYSTAL's New TM-2220-C7 Highly Stable Temperature Compensated Oscillator 32.768 kHz (TCXO) with integrated X-Tal and CMOS clock signal output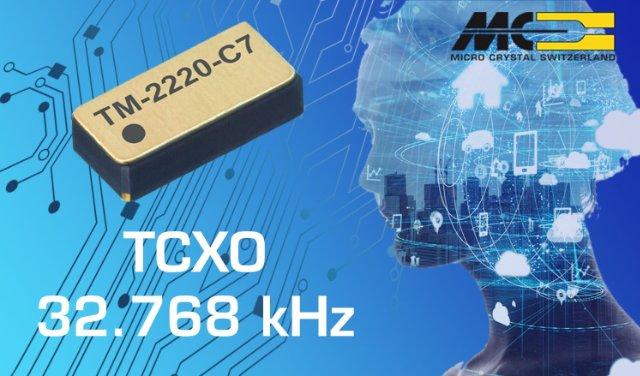 .
TM-2220-C7 is a plug and play temperature compensated frequency reference for applications where reliable and accurate oscillator is needed without frequency jump.
Combining minimal foot print (3.2 x 1.5 x 0.8 mm), only 4 connections and outstanding performances with 1.5 µA maximum current consumption associated to tight frequency stability of ± 5 ppm over full industrial temperature range, this factory calibrated device is embedded in a hermetically sealed compact reflow solderable DFN [1] package.
This fully embedded device achieves significantly better stability performances then separate components on a PCBA. Moreover, it does not require any oscillator adjustment during OEM design phase, minimizing integration constraints thus lowering development cost and time to market.
TM-2220-C7 TCXO low power module with operating voltage range of 1.1 to 3.63 V is designed for high volume and cost sensitive applications with tight space constraints where superior stability and extended operation life are required. It is ideal for asynchronous clocking in battery operated devices like IoT, healthcare, wearables, metering and automotive.
The part is RoHS compliant and AEC-Q200 qualified which facilitates new design-in.
With Micro Crystal improvements and miniaturization of this oscillator, the performance-to-price ratio has been ameliorated – and eventually, any device should benefit from its cutting edge stability and low energy operation.
Micro Crystal Quote:
"The 32.768 kHz TCXO-module TM-2220-C7 is the new milestone in the field of low frequency oscillators. The high stability over temperature is obtained integrating a miniature X-Tal resonator coupled to a TCXO ASIC circuit in closest proximity. The tiny package and the ultra-low power over the common voltage range makes it the frequency reference of choice for multiple applications."
Glossary
[1] DFN
Dual Flat No leads
Über die Micro Crystal AG
Micro Crystal, a company of Swatch Group Switzerland, was founded in 1978. With headquarter located at Grenchen, Switzerland, in the cradle of microtechnology, Micro Crystal designs, manufactures and sells quartz crystals resonators, oscillators, OCXOs and real-time clocks for the world's leading manufacturers of IoT, wearables, computers, automotive electronics, watches, industrial controls, cellular phones, consumer products as well as medical implantable devices and other high-reliability product applications.
The company has mass-volume manufacturing facilities in Thailand and Switzerland. Micro Crystal's sales offices in Europe, Asia and North America ensure close cooperation with customers and provide in-depth efficient technical support. Micro Crystal stands for reliable safe technology, high quality and environmentally friendly production. www.microcrystal.com
Firmenkontakt und Herausgeber der Meldung:
Micro Crystal AG
Mühlestrasse 14
CH2540 Grenchen
Telefon: +41 (32) 6558282
Telefax: +41 (32) 6558283
http://www.microcrystal.com
Ansprechpartner:
Nicolas Moser
Technical Marketing Manager
Telefon: +41 (32) 65584-08
E-Mail: nicolas.moser@microcrystal.com
Für die oben stehende Pressemitteilung ist allein der jeweils angegebene Herausgeber (siehe Firmenkontakt oben) verantwortlich. Dieser ist in der Regel auch Urheber des Pressetextes, sowie der angehängten Bild-, Ton-, Video-, Medien- und Informationsmaterialien. Die United News Network GmbH übernimmt keine Haftung für die Korrektheit oder Vollständigkeit der dargestellten Meldung. Auch bei Übertragungsfehlern oder anderen Störungen haftet sie nur im Fall von Vorsatz oder grober Fahrlässigkeit. Die Nutzung von hier archivierten Informationen zur Eigeninformation und redaktionellen Weiterverarbeitung ist in der Regel kostenfrei. Bitte klären Sie vor einer Weiterverwendung urheberrechtliche Fragen mit dem angegebenen Herausgeber. Eine systematische Speicherung dieser Daten sowie die Verwendung auch von Teilen dieses Datenbankwerks sind nur mit schriftlicher Genehmigung durch die United News Network GmbH gestattet.