Software Update of the inPuncto Server for SAP Processing of Documents and Inbound Mail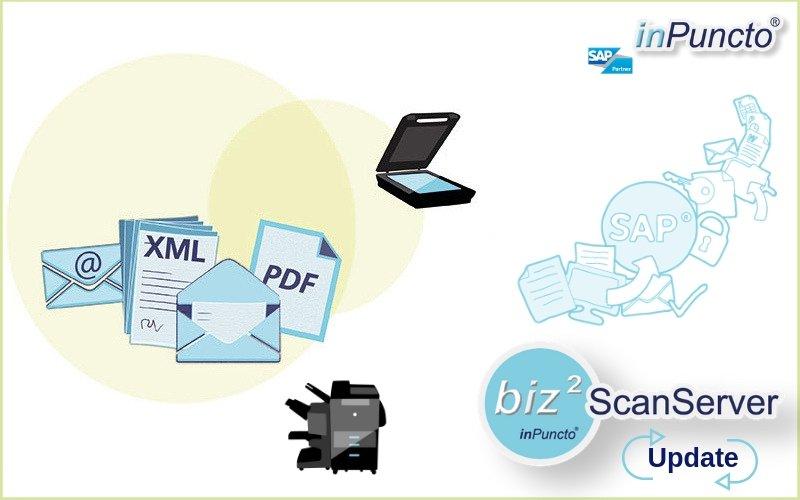 The 
inbound mail and document processing software biz²ScanServer
for SAP enables the automatic processing of large quantities of documents and files: triggering their workflow in SAP, linking them to business objects, and/or archiving them.
Thanks to the SAP Scanner Software by inPuncto, the documents are captured in accordance to the respective processing procedures maintained centrally in the document processing server and SAP.
The update V2.6.74 of the inPuncto Server for document processing in SAP brings many interesting innovations. On the one hand, there is the introduction of biz²ScanServer Scheduling (task planning), which leads to maximum stability, better performance, and optimal capacity utilization of the logical processors (CPUs).
Furthermore, the administrative biz²ScanServer Client interface has been extended and improved significantly. It provides the best possible overview of the biz²ScanServer operations.
The new and improved functions of the inPuncto server for processing of documents and incoming mail in SAP biz²ScanServer version 2.6.74:
biz²ScanServer Scheduling:
biz²ScanServer Scheduling allows individual components of the incoming mail processing software to be fine-tuned in terms of priority and parallelism in order to meet customer needs. The standard configuration of the biz²ScanServer Scheduling covers the most common customer requirements as informed by usage/experience. 
Control of the maximum parallelism of components (capacity planning): For each component of the biz²ScanServer, the maximum number of jobs that can be carried out at the same time can be defined (e.g. barcode reading operations or OCR processing).
Prioritization of the input channels: The inbox of the biz²ScanServer has different input channels, such as OCR text recognition or barcode scanners. Input channels with higher priority are preferred.
Scan scenarios or barcodes can be prioritized: Depending on the scenario (or given differently prioritized barcodes within a stack), documents are processed with priority and are therefore available faster in SAP.
Waiting times for users with user interaction are minimized ("burst mode"): Users of the SAP scanner biz²Scanner or of the workflow tool biz²DocumentControl receive a quick confirmation of order acceptance even when operating under full-load.
Overload situations are identified based on user-define threshold values: No new tasks are accepted until the overload has been resolved. "BurstMode" orders have priority in such situations.
biz²ScanServer Client – advanced function:
The redesign of the biz²ScanServer Client was carried out with the aim of affording a comprehensive overview of the tasks/jobs, their processing, and their run-times.
The "Controllers" tab available in previous biz²ScanServer versions has been extended with four new tabs. I.e. there are additional views of the current processes and their data.
The respective tabs have extensive options for filtering and sorting the displayed content.
All settings made by the user, e.g. regarding the selected filters are saved and will be available again the next time the biz²ScanServer Client is started.
Better user experience with the handling of large log files.
If you have any questions about the new functions of the inbox processing software biz²ScanServer, please do not hesitate to contact us!
Über die inPuncto GmbH
InPuncto GmbH is a SAP partner since 2000 and develops its own integrated enterprise content management solutions (ECM) for SAP to automate document-based business processes: add-on products, overall solutions based on them, product-related advice, perfectly coordinated hardware and high support quality.
The headquarters of inPuncto GmbH, founded in 1997, is in Esslingen, Germany.
More than 700 customers and over 100,000 users in 19 countries now use inPuncto's add-on products.
Further information: https://www.inpuncto.com/
Firmenkontakt und Herausgeber der Meldung:
inPuncto GmbH
Fabrikstr. 5
73728 Esslingen
Telefon: +49 (711) 66188-500
Telefax: +49 (711) 758786-14
https://www.inpuncto.com/
Ansprechpartner:
Marketing
Telefon: +49 (711) 66188-500
E-Mail: marketing@inpuncto.com
Für die oben stehende Pressemitteilung ist allein der jeweils angegebene Herausgeber (siehe Firmenkontakt oben) verantwortlich. Dieser ist in der Regel auch Urheber des Pressetextes, sowie der angehängten Bild-, Ton-, Video-, Medien- und Informationsmaterialien. Die United News Network GmbH übernimmt keine Haftung für die Korrektheit oder Vollständigkeit der dargestellten Meldung. Auch bei Übertragungsfehlern oder anderen Störungen haftet sie nur im Fall von Vorsatz oder grober Fahrlässigkeit. Die Nutzung von hier archivierten Informationen zur Eigeninformation und redaktionellen Weiterverarbeitung ist in der Regel kostenfrei. Bitte klären Sie vor einer Weiterverwendung urheberrechtliche Fragen mit dem angegebenen Herausgeber. Eine systematische Speicherung dieser Daten sowie die Verwendung auch von Teilen dieses Datenbankwerks sind nur mit schriftlicher Genehmigung durch die United News Network GmbH gestattet.