TOMTEC-ARENA 2020: A NEW APPROACH TO ULTRASOUND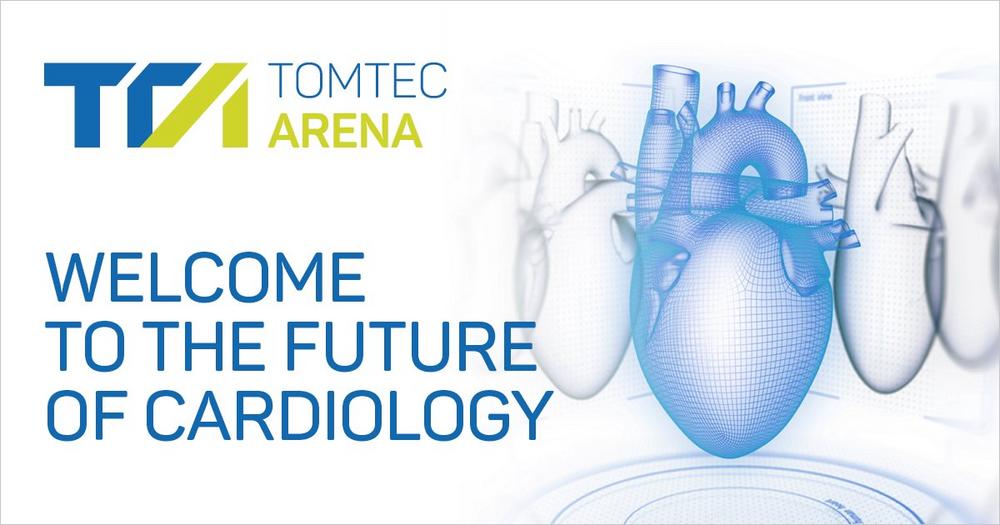 30 years ago a TOMTEC invention – 3D Ultrasound Technology – resulted in a quantum leap for diagnostic ultrasound. Today, the German company is set to once again revolutionize echocardiography though intelligent automation and web-based diagnostic workflows. Further to this, TOMTEC has joined the Philips' family resulting in the creation of synergies set to impact diagnostic ultrasound in the most powerful way. 
Measurement Automation: using Artificial Intelligence to improve diagnostic quality
TOMTEC has been at the cutting edge of automation in diagnostic ultrasound for many years. Automation is the key to reproducibility in the echo lab and TOMTEC has developed intelligent algorithms and AI-based data analytics that take user-variability out of the equation. TOMTEC-ARENA1 2020, which just has been released, is the result of these efforts.
With the addition of AI-based data analytics and automation, structures within the heart such as the Mitral Valve and endocardium can be detected, modeled and dynamically tracked in seconds; all with minimal interaction from the user. "The physician is no longer burdened with the time-consuming task of manual measurements such as left ventricular biplane volumes. This translates into valuable time savings and increased efficiencies. Harnessing the power of artificial intelligence, our software can independently perform many key echo measurements, from GLS to Ejection Fraction. This automation results in reproducible and user-independent results which means higher diagnostic confidence and quality," says Gregor Malischnig, CMO at TOMTEC.
TOMTEC and PHILIPS: together we are better
Since joining the Philips' family in 2017, both companies have gone from strength to strength. Many of the TOMTEC ARENA1 applications are now available on Philips ultrasound systems including the EPIQ CVx. Philips customers can now benefit from a seamless workflow: starting with the ultrasound system and continuing, with flexibility, through to the reporting room. The strong partnership provides consistency through shared diagnostic tools, common workflows and user interface design. Most significantly, TOMTEC ARENA1 maintains its vendor-agnostic advantage off-cart: TOMTEC software can analyze image data from all ultrasound manufacturers thus ensuring that each and every customer can benefit from the most recent innovations.
TOMTEC Zero: the complete diagnostic web-based solution for Cardiology
TOMTEC ZERO2, the web-based version of the TOMTEC ARENA1 software, offers increased efficiency and flexibility through mobile, web-based workflows. TOMTEC ZERO breaks down the barriers imposed by traditional workstations and the boundaries of hospitals by allowing any TOMTEC installation to be expanded for mobile, web-based use. TOMTEC ZERO provides access to diagnostic images, automated measurement packages and reporting via a web browser. In addition, TOMTEC ZERO now also provides dedicated stress echo review as well as access to prior studies.
TOMTEC ZERO provides complete diagnostic access no matter where the users are located within their clinical environment. "We developed our web technology to the point that TOMTEC ZERO is now ready for daily clinical use. In times of COVID-19, flexibility and adaptability to new workflows is more important than ever before. TOMTEC ZERO seamlessly complements the use of mobile ultrasound systems such as Philips LUMIFY and supports physicians who have to master new challenges such as mobile working, staff changes or social distancing," says Matthijs Groot Wassink, TOMTEC CEO.
For further information on the new features of TOMTEC-ARENA 2020 please visit www.tomtec.de.
1 TOMTEC-ARENA is a trademark of TOMTEC Imaging Systems GmbH. Commercial availability in US pending
2 is part of TOMTEC-ARENA.
Über die TOMTEC Imaging Systems GmbH
TOMTEC Imaging Systems GmbH is a global leader in medical imaging software solutions. Specializing in ultrasound, TOMTEC offers state-of-the-art solutions for our clinical customers and industry partners.
TOMTEC was founded in 1990 and our Headquarters are located in Munich, Germany. Our products encompass a wide range of 2D and 3D/4D technologies for visualization, automated image analysis, quantification, reporting and image management.
TOMTEC proudly offers solutions for adult and pediatric cardiology, obstetrics, gynecology, radiology and vascular diagnostics. We partner with industry experts to deliver education and best practice sharing via TOMTEC ACADEMY.
At TOMTEC, we are passionate about providing world-class support and service for all of our customers.
TOMTEC stands for "Excellence in Digital Healthcare". Our mission and core value is a commitment to continuous improvement, delivery of excellent image and analysis quality, ease-of-use, reproducibility through automation, world-class service, support and education.
TOMTEC focuses on emerging, future technologies like Cloud-based Software Solutions,, Artificial Intelligence, and Virtual Reality to support healthcare providers in delivering best possible patient care.
The company maintains close working relationships with many leading universities and research institutes around the world.
Firmenkontakt und Herausgeber der Meldung:
TOMTEC Imaging Systems GmbH
Edisonstr. 6
85716 Unterschleißheim
Telefon: +49 (89) 32175-500
Telefax: +49 (89) 32175-750
http://www.tomtec.de
Ansprechpartner:
Melanie Kelling
Marketing Manager
Telefon: +49 89 32175 585
E-Mail: melanie.kelling@tomtec.de
Sylvia Marti
Marketing Manager
Telefon: +49 89 32175 516
E-Mail: sylvia.marti@tomtec.de
Für die oben stehende Pressemitteilung ist allein der jeweils angegebene Herausgeber (siehe Firmenkontakt oben) verantwortlich. Dieser ist in der Regel auch Urheber des Pressetextes, sowie der angehängten Bild-, Ton-, Video-, Medien- und Informationsmaterialien. Die United News Network GmbH übernimmt keine Haftung für die Korrektheit oder Vollständigkeit der dargestellten Meldung. Auch bei Übertragungsfehlern oder anderen Störungen haftet sie nur im Fall von Vorsatz oder grober Fahrlässigkeit. Die Nutzung von hier archivierten Informationen zur Eigeninformation und redaktionellen Weiterverarbeitung ist in der Regel kostenfrei. Bitte klären Sie vor einer Weiterverwendung urheberrechtliche Fragen mit dem angegebenen Herausgeber. Eine systematische Speicherung dieser Daten sowie die Verwendung auch von Teilen dieses Datenbankwerks sind nur mit schriftlicher Genehmigung durch die United News Network GmbH gestattet.