Big success: first edition of SoundTrack_Zurich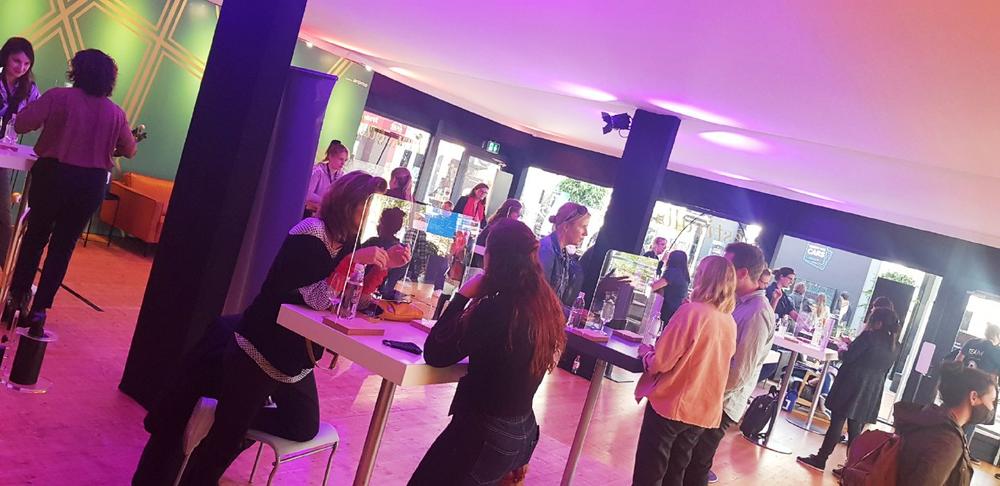 A big success during difficult times: the first edition of SoundTrack_Zurich (STZ), which took place within the framework of the 16th Zurich Film Festival (ZFF), attracted 1.800 visits. Over three and a half days, the music congress brought together composers, music supervisors, producers and directors from Switzerland and all over Europe. Almost 50 industry experts spoke in workshop talks, case studies and matchmaking sessions about current topics relevant to the film music scene. One of the highlights was the live scoring of "Petropolis" by Peter Mettler by the legendary Swiss band "The Young Gods".
"We wanted to send a signal of optimism with this edition," explained Christian Jungen, Artistic Director of the ZFF. "The number of 1.800 STZ visits and the positive feedback confirm that in times like these events are possible – and more relevant than ever. With the right planning and an elaborated protection concept, at SoundTrack_Zurich we have shown how a safe and successful realisation is possible," said curator Michael P. Aust. Marcel Vaid, president of SMECA, was also satisfied: "We are very pleased with this successful event and are already planning the second edition".
STZ focused on sound and music in film with B2B matchmaking sessions, workshops, discussions, case studies and live events. Star guest was Ray Parker Jr., the composer of the "Ghostbusters" theme song. Award-winning composers presented their projects in case studies and workshop talks, including John Gürtler (European Film Award for "System Crasher"), Dascha Dauenhauer (German Film Award for "Berlin Alexanderplatz"), Olivia Pedroli (Swiss Film Award for "Immer und Ewig"), Tina Pepper (German TV Award for "Rampensau"), Antonio Gambale (Emmy-nominated composer of the Netflix series "Unorthodox").
Networking sessions and personal meetings with industry experts involving topics such as conflict management, trends in sync and production music, music supervising and self-marketing & PR as well as a SUISA thematic block were at the focus of the STZ industry events. STZ was rounded of by the IMMSANE theme day at the ZhdK in order to support global higher education programs, a FOCAL hands-on workshop on Artificial Intelligence, special screenings and two concerts with the Tonhalle Orchestra Zurich.
The second edition of SoundTrack_Zurich will take place from September 28 – September 30, 2021.
SoundTrack_Zurich is organised by SMECA in cooperation with:
Zurich Film Festival | SoundTrack_Cologne | IMMSANE International Media Music and Sound Arts Network in Education | ZHdK Zurich University of the Arts | Forum Filmmusik
SoundTrack_Zurich is supported by (Stand: October 5, 2020):
MediaDesk Suisse | Bundesamt für Kultur BAK | Fondation SUISA | Swiss Perform | SUISA Genossenschaft der Urheber und Verleger von Musik | SIS Schweizerische Interpretenstiftung | FOCAL Stiftung Weiterbildung Film und Audiovision | Montreux Jazz Festival | WIFT Germany | SWAN Swiss Women's Audiovisual Network | AWFC Alliance for Women Film Composers | ECSA European Composer & Songwriter Alliance | DEFKOM Deutsche Filmkomponistenunion | Composers Club
Zurich Film Festival
Every autumn, the Zurich Film Festival (ZFF) presents the most beautiful discoveries and the most awaited films of the year over 11 days. It provides a platform for the most promising new filmmakers from all over the world. The 16th ZFF offered an extensive and extremely varied program: of the 165 films, 23 were world premieres, more than ever. In the three competition sections, more than half of the films were by women. The 17th edition of the ZFF will take place from September 23 to October 3, 2021.
More information: zff.com
Firmenkontakt und Herausgeber der Meldung:
Televisor Troika GmbH
Trajanstr. 27
50678 Köln
Telefon: +49 (221) 931844-0
Telefax: +49 (221) 931844-9
http://televisor.de
Für die oben stehende Pressemitteilung ist allein der jeweils angegebene Herausgeber (siehe Firmenkontakt oben) verantwortlich. Dieser ist in der Regel auch Urheber des Pressetextes, sowie der angehängten Bild-, Ton-, Video-, Medien- und Informationsmaterialien. Die United News Network GmbH übernimmt keine Haftung für die Korrektheit oder Vollständigkeit der dargestellten Meldung. Auch bei Übertragungsfehlern oder anderen Störungen haftet sie nur im Fall von Vorsatz oder grober Fahrlässigkeit. Die Nutzung von hier archivierten Informationen zur Eigeninformation und redaktionellen Weiterverarbeitung ist in der Regel kostenfrei. Bitte klären Sie vor einer Weiterverwendung urheberrechtliche Fragen mit dem angegebenen Herausgeber. Eine systematische Speicherung dieser Daten sowie die Verwendung auch von Teilen dieses Datenbankwerks sind nur mit schriftlicher Genehmigung durch die United News Network GmbH gestattet.