Star-studded FWT21 line-up announced as legends, rookies and wildcards prepare to battle for the world title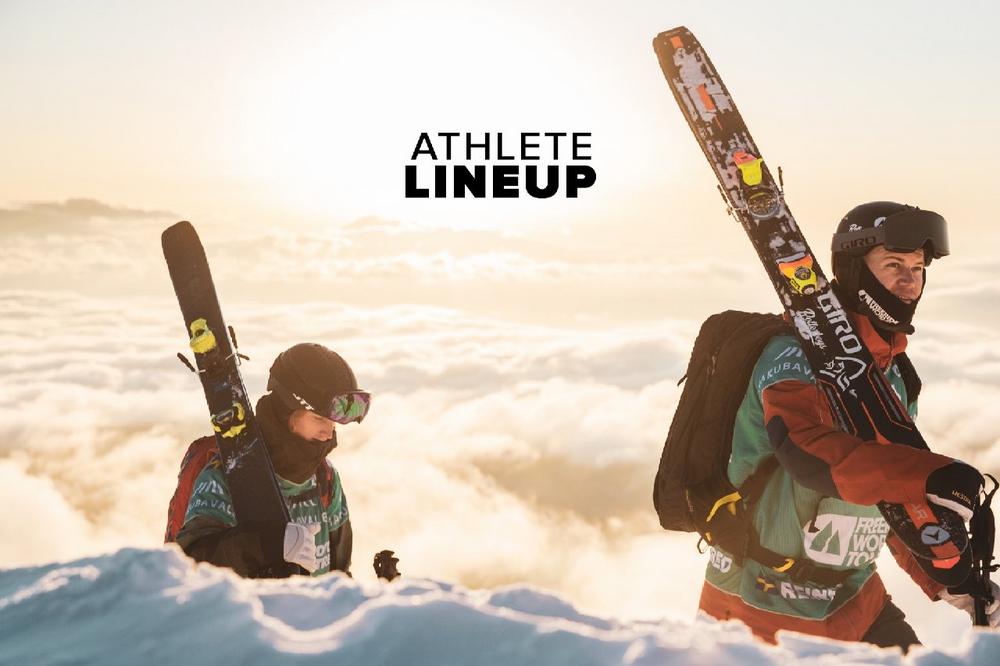 With the FWT announcing the full roster for 2021, many questions resurface. Will one of the legends regain the title? Will an impressive rookie shock to win in their maiden year? Or will one of the wildcards prove their inclusion and take the trophy. Only the world's best big mountain athletes can answer these questions as they get primed for the FWT21 season.
48 athletes in four categories – 7 snowboard women, 9 snowboard men, 8 ski women and 24 ski men – will fight to lift the trophy as the FWT champion. But the highly diverse field from all reaches of the globe guarantee this won't be an easy feat. And surely last year's world champions – Marion Haerty (FRA-snowboard), Nils Mindnich (USA-snowboard), Arianna Tricomi (ITA-ski) and Isaac Freeland (USA-ski) – aren't ready to let go of the sport's most valuable prize.
Athletes will need to be on point from their very first turn. And with the cut now at the third stop, only 4 snowboard women, 6 snowboard men, 6 ski women and 13 ski men (totalling 29 riders) will get the opportunity to compete in the last two stops and the chance to stand on the podium.
Discover the names of the returning legends, tour wildcards and rookies.
SKI MEN
The Top 13 FWT 2020 in ranking order.
Isaac FREELAND (USA)
Kristofer TURDELL (SWE)
Andrew POLLARD (USA)
Blake MARSHALL (NZ)
Reine BARKERED (SWE)
Carl REGNÉR (SWE)
Drew TABKE (USA)
Carl RENVALL (SUI)
Tom PEIFFER (CAN)
Tanner HALL (USA)
Kevin NICHOLS (USA)
The Top FWQ 2020 –  "The Rookies"
Maël OLLIVIER (FRA)
David DELIV (SWE)
Julian HAMPTON (NZ)
Ross TESTER (USA)
Cooper BATHGATE (CAN)
Raymond MCDERMOTT (USA)
The Wildcards
Léo SLEMETT (FRA)
Sam LEE (NZ)
Yann RAUSIS (SUI)
Tao KREIBICH (AUT)
Yu SASAKI (JPN)
Konstantin OTTNER (GER)
Aymar NAVARRO (ESP)
SKI WOMEN
The Top 6 FWT 2020 in ranking order.
Arianna TRICOMI (ITA)
Hedvig WESSEL (NOR)
Elisabeth GERRITZEN (SUI)
Jacqueline POLLARD (USA)
The Top FWQ 2020 –  "The Rookies"
Zuzanna WITYCH (POL)
Tracy CHUBB (USA)
The Wildcards
Maude BESSE (SUI)
Juliette WILLMANN (FRA)
SNOWBOARD MEN
The Top 6 FWT 2020 in ranking order.
Nils MINDNICH (USA)
Victor DE LE RUE (FRA)
Sammy LUEBKE (USA)
Cody BRAMWELL (UK)
Jonathan PENFIELD (USA)
Gigi RÜF (AUT)
The Top FWQ 2020 –  "The Rookies"
Hugo SERRA (FRA)
Michael MAWN (USA)
The Wildcard
Blake MOLLER (USA)
SNOWBOARD WOMEN
The Top 4 FWT 2020 in ranking order.
Marion HAERTY (FRA)
Michaela DAVIS-MEEHAN (AUS)
Erika VIKANDER (USA)
Núria CASTÁN BARÓN (ESP)
The Top FWQ 2020 – "The Rookies"
Katie ANDERSON (USA)
Claire MCGREGOR (NZ)
The Wildcard
Manuela MANDL (AUT)
As health and safety is always the priority for FWT organisers, they are actively working in conjunction with local authorities to make sure each competition is compliant with current regulations.
Competition broadcasts will be available on www.freerideworldtour.com. Until then, stay tuned and follow the FWT social media channels for all the latest news as the countdown to winter begins.
Über Freeride World Tour
FWT Management SA, based in Pully/Lausanne-Switzerland, is organizing world-class sports events in mountain resorts and regions since 1996. Founder of "Verbier Xtreme", iconic event in freeride skiing & snowboarding, FWT Management SA, has taken in 2008 this stand alone event to create several Series of international freeride competitions totaling over 150 events around the globe for professional, amateur and junior riders.
FWT Management SA is the exclusive owner and organizer of the following Series : Freeride World Tour (FWT), Freeride World Qualifier (FWQ), Freeride Junior Tour (FJT), Freeride Junior World Championship (FJWC) and a Freeride Skiing Team Competition (Skiers Cup) with events taking place in Europe, North America, South America, Asia and Oceania. www.freerideworldtour.com
Ansprechpartner:
Fanny Avril
Global Press Relations Agent
Telefon: +33 (6) 669071-43
E-Mail: fanny@freerideworldtour.com
Für die oben stehende Pressemitteilung ist allein der jeweils angegebene Herausgeber (siehe Firmenkontakt oben) verantwortlich. Dieser ist in der Regel auch Urheber des Pressetextes, sowie der angehängten Bild-, Ton-, Video-, Medien- und Informationsmaterialien. Die United News Network GmbH übernimmt keine Haftung für die Korrektheit oder Vollständigkeit der dargestellten Meldung. Auch bei Übertragungsfehlern oder anderen Störungen haftet sie nur im Fall von Vorsatz oder grober Fahrlässigkeit. Die Nutzung von hier archivierten Informationen zur Eigeninformation und redaktionellen Weiterverarbeitung ist in der Regel kostenfrei. Bitte klären Sie vor einer Weiterverwendung urheberrechtliche Fragen mit dem angegebenen Herausgeber. Eine systematische Speicherung dieser Daten sowie die Verwendung auch von Teilen dieses Datenbankwerks sind nur mit schriftlicher Genehmigung durch die United News Network GmbH gestattet.