150+ million packs with SIGNATURE packaging material sold as demand for sustainable packaging grows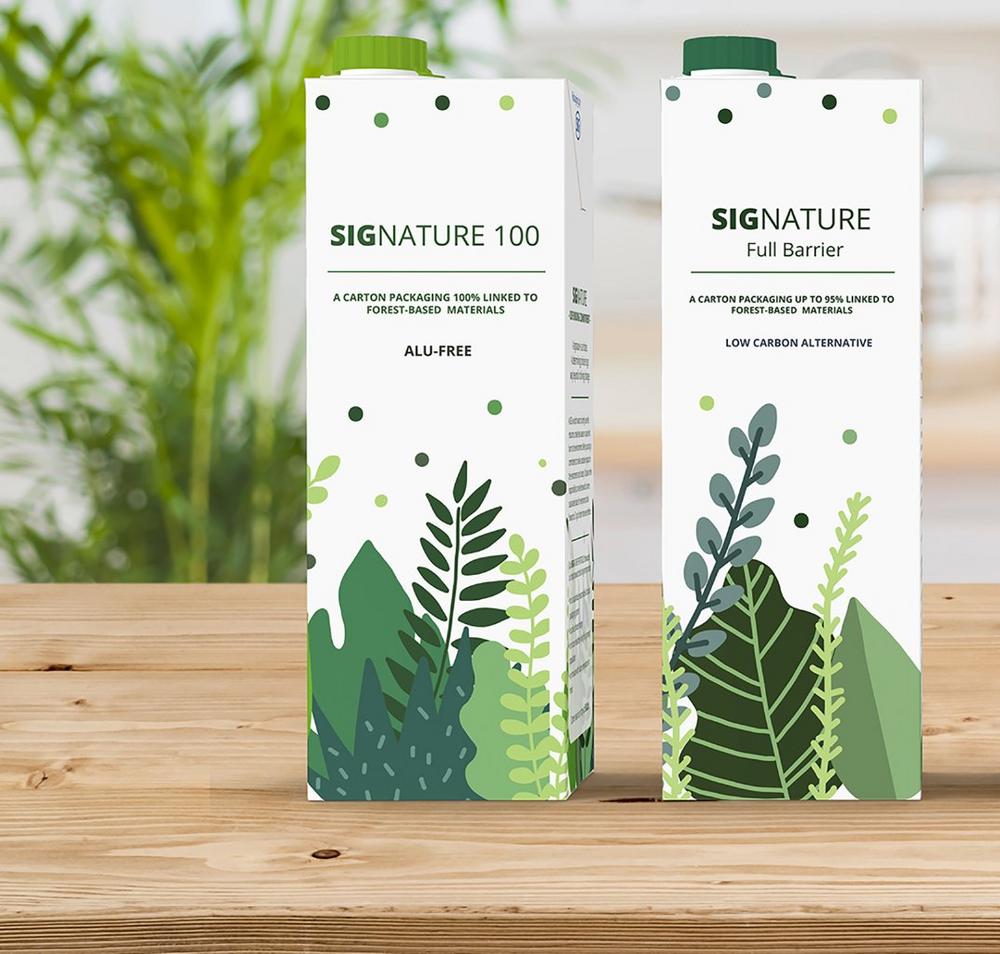 SIG has now sold over 150 million packs with its award-winning
SIG
NATURE, the world's first aseptic carton packaging material linked up to 100% to renewable materials.
"SIG's ground-breaking SIGNATURE is a great success, with over 150 million packs sold," said Alina Theissen Hageresch, SIG's Marketing Manager Sustainability and Responsibility Europe. "Increased uptake shows that its strong environmental credentials offer customers an answer to consumers wanting more sustainable packaging alternatives as they seek to do their part for a low-carbon future."
Growing demand for sustainable packaging
Consumers' priorities are changing: a clear majority (73%*) now say they would change their consumption habits to reduce their environmental impact. As brands seek to meet demand for 
more sustainable products, their choice of packaging has a critical role to play as the first key touchpoint for consumers.
SIG's standard carton packs, made with around 75% renewable paper board from FSCTM-certified sustainable sources, already offer a significantly better environmental performance than alternative types of packaging. The carbon footprint of a carton pack is up to 70% lower than plastic or glass bottles.
Launched in 2017, SIG's innovative SIGNATURE packaging material links the polymers used to 100% forest-based renewable materials via an independently certified mass balance system. SIG chose tall oil – a residue extracted from wood in the paper making process – as the forest-based feedstock. It is a by-product from another industry rather than an agricultural crop requiring land and resources that could be used to produce food. An independent lifecycle assessment shows that SIGNATURE reduces the carbon footprint of carton packs even further – by 45% to 58% (European average) depending on the option selected (more information at www.sig.biz).
Innovative solutions for all markets
SIGNATURE is available in two options to meet demand for sustainable packaging solutions across all market segments.
The aluminium-free SIGNATURE 100 for dairy products is the world's first aseptic carton packaging material linked to 100% forest-based renewable material. SIGNATURE Full Barrier includes an ultra-thin layer of aluminium, certified against the Aluminium Stewardship Initiative (ASI) standards, to protect products like orange juice that are more sensitive to light and oxygen.
The European and North American markets are pioneering the shift to more sustainable packaging solutions. Early adopters of SIGNATURE include Unilever's B-Better in Belgium, Candia in France, nutpods in the USA and Water Cubed in UK.
"B-Better water was launched with strong brand values: help consumers to be good to themselves and do better for the planet," said Hélène Esser, B-Better Co-founder and Marketing Manager Refreshments at Unilever. "SIGNATURE's unmatched environmental credentials, combined with SIG's unique bottle-shaped combidome carton, align perfectly with our strapline: 'It's a start for less plastic and a better planet'."
Innovating to go Way Beyond Good
Growing demand for SIGNATURE packaging material linked up to 100% to renewable materials is the latest milestone in SIG's journey to go Way Beyond Good by putting more into society and the environment than it takes out.
Sustainable innovation is central to this ambition and SIG has achieved a host of other industry firsts: first to enable customers to put the FSC™ label on any of its packs, first to offer aluminium-free aseptic carton packs, first to offer a paper straw solution for aseptic carton packs, first to offer carton packs with responsibly-sourced ASI-certified foil and, most recently, first to offer cartons made with recycled plastics.
*https://www.nielsen.com/us/en/insights/report/2018/unpacking-the-sustainability-landscape/
FIND OUT MORE ABOUT SIGNATURE:
https://www.sig.biz/en/packaging/beverage-packaging/signature-pack-details
FIND OUT MORE ABOUT SIG'S WAY BEYOND GOOD COMMITMENT:
Über SIG Combibloc
SIG (FSCTM trademark licence code: FSCTM C020428) is a leading systems and solutions provider for aseptic carton packaging. We work in partnership with our customers to bring food and beverage products to consumers around the world in a safe, sustainable and affordable way. Our unique technology and outstanding innovation capacity enable us to provide our customers with end-to-end solutions for differentiated products, smarter factories and connected packs, all to address the ever-changing needs of consumers. Sustainability is integral to our business and we are going Way Beyond Good to create a net positive food packaging system.
Founded in 1853, SIG is headquartered in Neuhausen, Switzerland. The skills and experience of our approximately 5,500 employees worldwide enable us to respond quickly and effectively to the needs of our customers in over 60 countries. In 2019, SIG produced 38 billion carton packs and generated €1.8 billion in revenue. SIG has an AA ESG rating by MSCI, an 18.8 (low risk) score by Sustainalytics and a Platinum CSR rating by EcoVadis. For more information, visit www.sig.biz
Firmenkontakt und Herausgeber der Meldung:
SIG Combibloc
Rurstraße 58
52441 Linnich
Telefon: +49 (2462) 79-0
Telefax: +49 (2462) 79-2519
http://www.sig.biz
Ansprechpartner:
Heike Thevis
Press Officer
Telefon: +49 (2462) 79-2608
Fax: +49 (2462) 7917-2608
E-Mail: heike.thevis@sig.biz
Für die oben stehende Pressemitteilung ist allein der jeweils angegebene Herausgeber (siehe Firmenkontakt oben) verantwortlich. Dieser ist in der Regel auch Urheber des Pressetextes, sowie der angehängten Bild-, Ton-, Video-, Medien- und Informationsmaterialien. Die United News Network GmbH übernimmt keine Haftung für die Korrektheit oder Vollständigkeit der dargestellten Meldung. Auch bei Übertragungsfehlern oder anderen Störungen haftet sie nur im Fall von Vorsatz oder grober Fahrlässigkeit. Die Nutzung von hier archivierten Informationen zur Eigeninformation und redaktionellen Weiterverarbeitung ist in der Regel kostenfrei. Bitte klären Sie vor einer Weiterverwendung urheberrechtliche Fragen mit dem angegebenen Herausgeber. Eine systematische Speicherung dieser Daten sowie die Verwendung auch von Teilen dieses Datenbankwerks sind nur mit schriftlicher Genehmigung durch die United News Network GmbH gestattet.