Mimaki Illuminates 3D Printing Market with New Compact Full-Colour UV Inkjet 3D Printer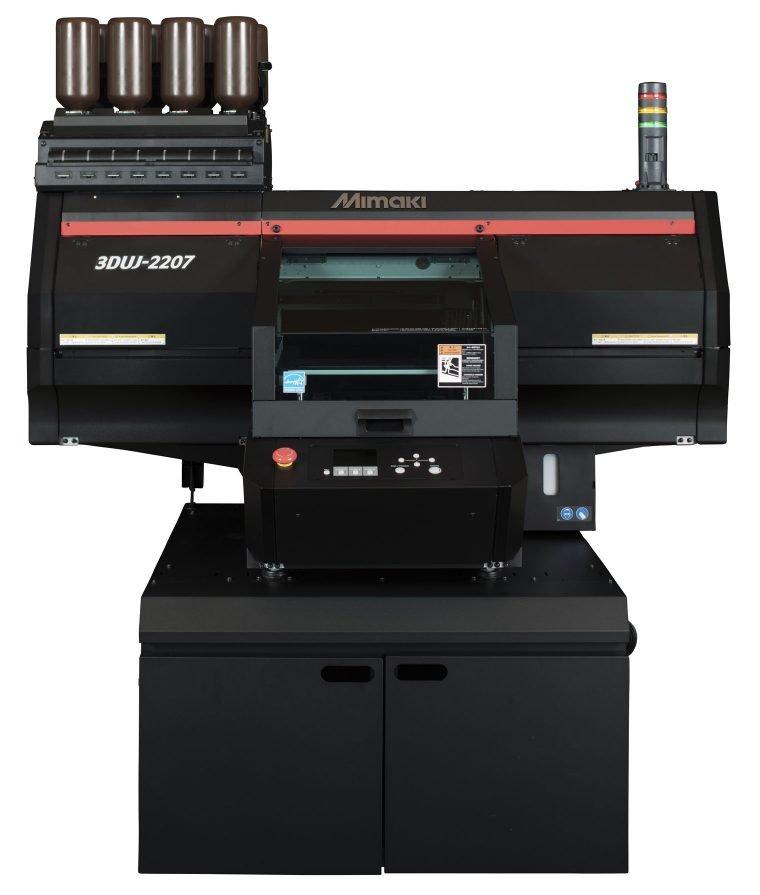 Mimaki's exclusive distributor for the UK and Ireland,
Hybrid Services
, has today announced the launch of the new compact, full-colour Mimaki 3DUJ-2207 UV Inkjet 3D Printer. Previously the first to bring over 10 million colours to the 3D printing market with its larger-scale industrial counterpart, the
3DUJ-553
, Mimaki now combines the same impressive colour range and renowned build quality in a compact, affordable solution. With this latest offering, Mimaki aims to extend the reach and accessibility of its cutting-edge 3D printing technologies to an entirely new segment of customers.
The innovative 3D printing solution represents a huge step forward for detailing and post-processing, with the unique combination of its full-colour capabilities and water-soluble support materials enabling super-fine details to be printed in vibrant colour, and then beautifully preserved without the substantial breakage risks usually associated with manual cleaning, painting and finishing. With additional features such as Mimaki's trademark clear resin, which can be utilised alone or mixed with colours to achieve varying levels of transparency, the new 3DUJ-2207 3D printer presents a robust, advanced 3D printing solution with an affordable price tag – all within a machine sufficiently compact to fit in an office elevator.
Hybrid's Managing Director, Brett Newman comments, "The new Mimaki 3DUJ-2207 delivers a powerful solution for the 3D print industry, setting a fresh benchmark for price and performance with its incredible feature set."
"Encompassing significant functionality already proven on the larger Mimaki 3DUJ-553, we anticipate strong uptake from companies seeking to leverage full colour 3D production," he continues.
"Here at Mimaki, we do not stop at developing disruptive technologies – we make it our business to look even further beyond this, continually striving to find ways in which we can then accelerate the adoption of these technologies and drive the wider industry forward," comments Danna Drion, Senior Marketing Manager at Mimaki Europe. "Our new 3DUJ-2207 3D Printer is a prime example of this. We had already raised the bar in 3D printing by delivering the world's first 3D printer with over 10 million colours – but now, with the introduction of our new 3DUJ-2207 3D Printer, we are bringing these 10 million colours to a host of new customers, which in turn means new applications and an even quicker uptake of 3D printing technologies as a whole."
Set to be commercially available worldwide from January 2021, the 3DUJ-2207 has been designed with functionality at its core, with the compact design and a 203 x 203 x 76mm build space just two of many key features which demonstrate its unique versatility and make it ideally suited for office environments. The 3D printer's quiet performance and optional deodoriser minimise some of the primary disruptions usually associated with 3D printing technologies, ensuring maximum workability in busy workspaces.
Utilising UV-curing inkjet technology, the expansive high-definition colour expression made possible with the Mimaki 3DUJ-2207 3D Printer is around twice that of powder bed manufacturing methods. This provides new possibilities for prototyping and enables the accurate reproduction of subtle colour differences which are critical for many industrial design applications such as medical and architectural modelling. Additional applications include small-scale models for design offices and educational settings, as well as collectible figures.
Drion concludes, "By combining our technological expertise with a wealth of industry experience and market insight, we have been able to create an innovative, inspired solution that merges functionality, affordability and design in a way that really will be game-changing for a lot of creators. This launch will deliver a world of new possibilities to designers and product developers, for many of whom the idea of high-definition full-colour 3D printing might previously have been out of reach, and that is something we are extremely proud of."
The Mimaki 3DUJ-2207 3D Printer will be exhibited online at Formnext Connect and as part of Mimaki's latest virtual event, the Mimaki 3D Experience, from 10th November to 16th December. Follow Hybrid's social media channels for more information.
For more information about products and services from Mimaki, visit www.hybridservices.co.uk
About Hybrid Services Ltd.
Hybrid Services Ltd is the exclusive UK & Ireland distributors for Mimaki's award winning range of wide format solvent, UV curing, textile, 3D and aqueous inkjet printers, flatbed and pinch roll cutting plotters, suite of software solutions and genuine Mimaki consumables. Established since 1996, Hybrid's commitment to providing the very highest standards of customer service is coupled to a market-leading product portfolio of cutting-edge solutions for the sign and graphics, industrial, 3D and printed textile markets.
Über die Mimaki Deutschland GmbH
Mimaki is a leading manufacturer of wide-format inkjet printers and cutting machines for the sign/graphics, industrial and textile/apparel markets. Mimaki develops the complete product range for each group; hardware, software and the associated consumable items, such as inks and cutting blades. Mimaki excels in offering innovative, high quality and high reliability products, based upon its aqueous, latex, solvent and UV-curable inkjet technology. In order to meet a wide range of applications in the market, Mimaki pursues the development of advanced on-demand digital printing solutions. Mimaki Engineering Co. Ltd., (President: Kazuaki Ikeda) Nagano (Japan), is publicly listed on the Tokyo Stock Exchange, Inc.
Firmenkontakt und Herausgeber der Meldung:
Mimaki Deutschland GmbH
Martin-Kollar-Straße 10
81829 München
Telefon: +49 (89) 437481-0
Telefax: +49 (89) 437481-199
http://www.mimaki.de
Ansprechpartner:
Ivan Lesmana
marketing communication department
Telefon: +31 (20) 4627942
E-Mail: I.Lesmana@mimakieurope.com
Danna Drion
Marketing Manager EMEA
Telefon: +31 (20) 46279-42
E-Mail: D.Drion@mimakieurope.com
Für die oben stehende Pressemitteilung ist allein der jeweils angegebene Herausgeber (siehe Firmenkontakt oben) verantwortlich. Dieser ist in der Regel auch Urheber des Pressetextes, sowie der angehängten Bild-, Ton-, Video-, Medien- und Informationsmaterialien. Die United News Network GmbH übernimmt keine Haftung für die Korrektheit oder Vollständigkeit der dargestellten Meldung. Auch bei Übertragungsfehlern oder anderen Störungen haftet sie nur im Fall von Vorsatz oder grober Fahrlässigkeit. Die Nutzung von hier archivierten Informationen zur Eigeninformation und redaktionellen Weiterverarbeitung ist in der Regel kostenfrei. Bitte klären Sie vor einer Weiterverwendung urheberrechtliche Fragen mit dem angegebenen Herausgeber. Eine systematische Speicherung dieser Daten sowie die Verwendung auch von Teilen dieses Datenbankwerks sind nur mit schriftlicher Genehmigung durch die United News Network GmbH gestattet.