Bearing manufacturer Michell Bearings celebrates 100 years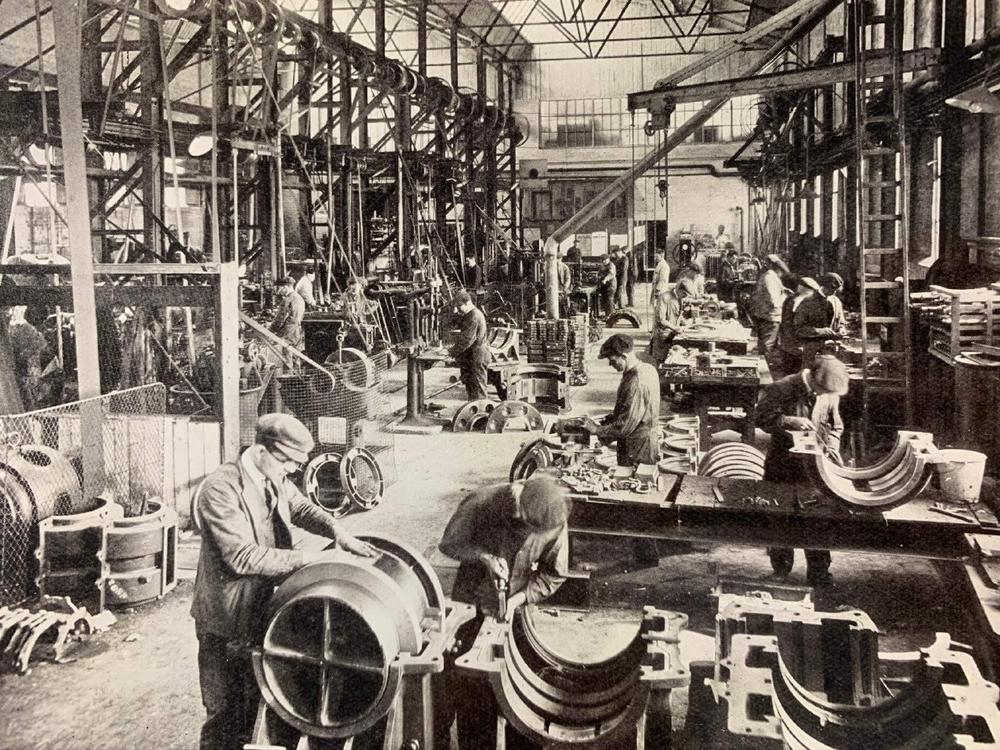 In 1905, prior to the incorporation of
 Michell Bearings
, founder A.G.M Michell registered patents in Britain and Australia for his tilting pad bearing invention, a concept which is widely used around the world today. Now employing 182 people from manufacturing sites in the UK and India, as well as a global sales network, Michell Bearings began life with co-ownership between A.G.M Michell and Henry Thornton Newbigin, as well as four major shipbuilders in the North East of England; Cammell Laird & Co., Vickers, John Brown & Co. and Fairfield Shipbuilding and Engineering Co.
The adoption of Michell's tilting pad thrust block was revolutionary during the First World War. By the end of the war, Michell's more elegant state of the art design had replaced the larger, less reliable fore runners and it was estimated that the direct annual saving to the Royal Navy in coal and oil was around £800,000, which is the equivalent to £82 million today.
Steve Dixon, CEO at Michell Bearings, said: "It is a privilege for us all to be part of history as we celebrate 100 years since the incorporation of Michell Bearings. The fact that the business has reached this significant milestone is a tribute to everyone, past and present, who has dedicated themselves to the success of the company.
"The hard work of our employees is greatly appreciated and our efforts today are crucial to ensuring that Michell Bearings prospers for generations to come. "There's no doubt it's an unusual time to celebrate this centenary, and of course we are disappointed that we can't have a bigger celebration. But it's important that we come together in some way mark this special occasion."
The company occupied premises on Scotswood Road, Newcastle, where it was owned by Vickers and subsequently Rolls Royce until 2015. Now a member of the British Engines Group, Michell Bearings moved to its current facility in South Shields in 2015. Since the takeover, the company has seen considerable investment in both the UK and Indian facilities.
Michell Bearings India commenced production in 1995 within a 4,500 square meter manufacturing facility in Bangalore. Currently employing 59 members of staff, the facility plays a vital role within the business' industrial market replicating the state-of-the-art manufacturing methods, CNC capability and cutting tool technology used in the UK.
In recent years, Michell Bearings has continued to grow and expand in markets such as hydropower, nuclear power and naval propulsion resulting in record sales in the last financial year. The past two years have seen the company manufacture its fastest self-contained bearing within the nuclear power industry, largest thrust block for naval propulsion, and largest horizontal bearing for a civil aerospace development application.
More recently, bearings for a nuclear reactor cooling pump application have successfully completed a station black out (SBO) test at the Michell Bearings facility. It is thought to be one of the world's first successful tests in this context. The SBO test simulates an environment where a nuclear power station loses all electrical power and the successful operation of the bearings is key to maintain the safe onward operation of the nuclear reactor.
Über Michell Bearings
Michell Bearings designs and manufactures hydrodynamic white metal and PTFE lined bearings for clients across the globe. Founded in Newcastle upon Tyne in 1920, this year Michell Bearings celebrates 100 years of manufacturing products including horizontal bearings, vertical bearings and tilting pad bearings for the industrial, commercial marine and naval markets.
Firmenkontakt und Herausgeber der Meldung:
Michell Bearings
Waldridge Way
NE34 9PZ South Shields
Telefon: +44 (191) 273-0291
http://michellbearings.com
Ansprechpartner:
Lucy Gordon
MEPAX
Telefon: +34 (620) 065-719
E-Mail: l.gordon@mepax.com
Jodie McAndrew
Telefon: +44 (191) 2097420
E-Mail: Jodie.McAndrew@britishengines.com
Für die oben stehende Pressemitteilung ist allein der jeweils angegebene Herausgeber (siehe Firmenkontakt oben) verantwortlich. Dieser ist in der Regel auch Urheber des Pressetextes, sowie der angehängten Bild-, Ton-, Video-, Medien- und Informationsmaterialien. Die United News Network GmbH übernimmt keine Haftung für die Korrektheit oder Vollständigkeit der dargestellten Meldung. Auch bei Übertragungsfehlern oder anderen Störungen haftet sie nur im Fall von Vorsatz oder grober Fahrlässigkeit. Die Nutzung von hier archivierten Informationen zur Eigeninformation und redaktionellen Weiterverarbeitung ist in der Regel kostenfrei. Bitte klären Sie vor einer Weiterverwendung urheberrechtliche Fragen mit dem angegebenen Herausgeber. Eine systematische Speicherung dieser Daten sowie die Verwendung auch von Teilen dieses Datenbankwerks sind nur mit schriftlicher Genehmigung durch die United News Network GmbH gestattet.