Hamburg Commercial Bank finances refurbishment of "OFFICE CAMPUS STUTTGART" for J. P. Morgan Asset Management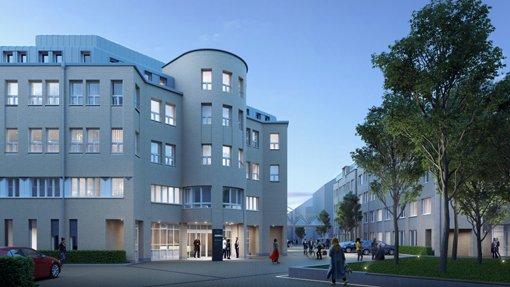 Hamburg Commercial Bank (HCOB) finances the refurbishment of the "OFFICE CAMPUS STUTTGART" and provides it's refinancing in a consortium to a real estate fund managed by J. P. Morgan Asset Management. The financing in the three-digit million range will be realized by HCOB together with the consortium partners Santander Consumer Bank and Kreissparkasse Esslingen-Nürtingen. The consortium was advised on this project by law firm Taylor Wessing, the borrower was represented by Hengeler Mueller.
The urban quarter "OFFICE CAMPUS STUTTGART" is located in the middle of Bad Cannstatt, the oldest and most populous district of the state capital of Baden-Württemberg, and comprises several buildings with a total area of almost 60,000 sqm. The location has an excellent infrastructure and is also very well connected to public transport.
The current sole tenant of the building will have moved out almost completely by the end of 2021. Thereafter, the space has been leased on a long-term basis to the state of Baden-Württemberg, the city of Stuttgart and the Federal Institute for Post and Telecommunications – making the "OFFICE CAMPUS STUTTGART" one of the largest buildings used by the public sector in Stuttgart.
"The 'Office Campus' is a beacon project with a radiance in the Stuttgart region. Such groundbreaking projects succeed from the interaction of expertise, a shared understanding of the ideal solution and entrepreneurial foresight," said Peter Axmann, Head of Real Estate Clients at Hamburg Commercial Bank. "These are the qualities that our long-standing client J. P. Morgan Asset Management brings to the table. "
"Hamburg Commercial Bank has been with us since the purchase of this building about five years ago and we look forward to continuing the cooperation as the project develops. Thanks to the many years of experience and extensive expertise of HCOB, which structured the financing and also syndicated it as Mandated Lead Arranger, we were able to conclude the financing reliably even in this challenging year," said Michael Ramm, Managing Director at J. P. Morgan Asset Management Global Alternatives Real Estate Europe.
Firmenkontakt und Herausgeber der Meldung:
Hamburg Commercial Bank AG
Gerhart-Hauptmann-Platz 50
20095 Hamburg
Telefon: +49 (40) 33330
https://www.hcob-bank.com
Ansprechpartner:
Katrin Steinbacher
Head of Press
Telefon: +49 (40) 3333-11130
E-Mail: katrin.steinbacher@hcob-bank.com
Für die oben stehende Pressemitteilung ist allein der jeweils angegebene Herausgeber (siehe Firmenkontakt oben) verantwortlich. Dieser ist in der Regel auch Urheber des Pressetextes, sowie der angehängten Bild-, Ton-, Video-, Medien- und Informationsmaterialien. Die United News Network GmbH übernimmt keine Haftung für die Korrektheit oder Vollständigkeit der dargestellten Meldung. Auch bei Übertragungsfehlern oder anderen Störungen haftet sie nur im Fall von Vorsatz oder grober Fahrlässigkeit. Die Nutzung von hier archivierten Informationen zur Eigeninformation und redaktionellen Weiterverarbeitung ist in der Regel kostenfrei. Bitte klären Sie vor einer Weiterverwendung urheberrechtliche Fragen mit dem angegebenen Herausgeber. Eine systematische Speicherung dieser Daten sowie die Verwendung auch von Teilen dieses Datenbankwerks sind nur mit schriftlicher Genehmigung durch die United News Network GmbH gestattet.