MTC Micro Tech Components GmbH at electronica Munich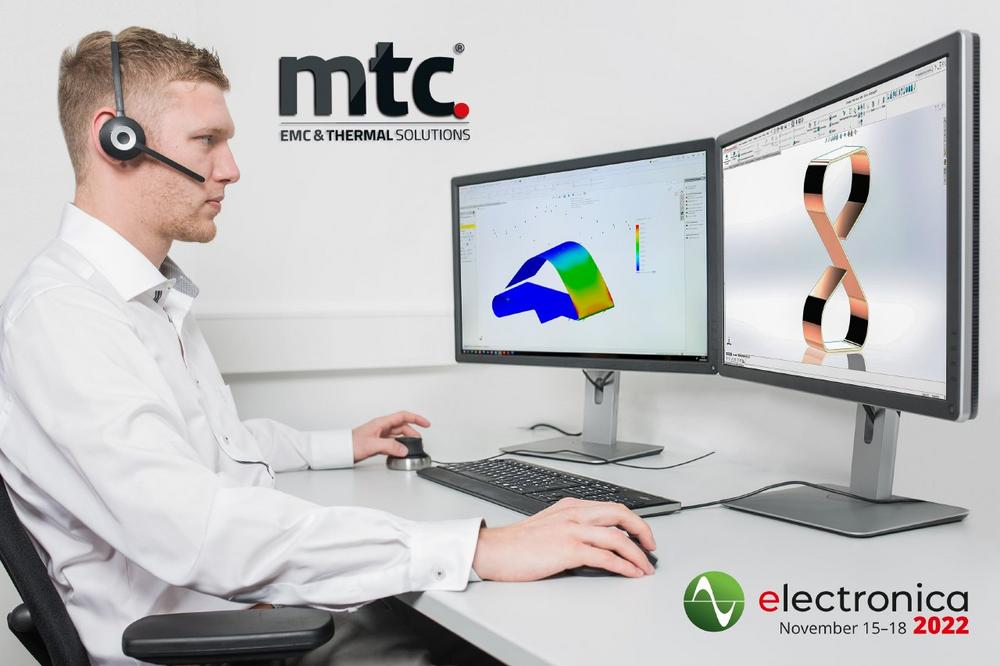 MTC Micro Tech Components GmbH from Dillingen/Donau will exhibit at electronica in Munich from November 15 to 18, 2022. As a leading global manufacturer and engineering partner specialized in EMC components, metal parts and thermally conductive products, MTC will be present at booth 356 in hall B3. MTC's main focus will be on people and personal interaction. Visitors will have the opportunity to look behind the scenery of MTC's engineering team and meet the specialists and development engineers in person.
Engineering in focus: Engineers present live simulations and more
In addition to numerous product highlights, visitors can also experience live demonstrations of complex 3D models and simulations. The engineering team will show how products perform in applications and how their properties can be optimized in the product development process. The MTC team is looking forward to many visitors and interesting conversations at their completely re-designed booth. Visitors will meet the people behind MTC and experience their passion for EMC and thermal management.
From idea to series production
For more than 30 years, MTC has been a reliable partner for standard solutions and customized products in a wide range of application scenarios. MTC accompanies their customers from the initial idea to the final serial product and offers comprehensive technical services. MTC's experts have an outstanding experience in the design of contact springs and metal parts. The engineers define the optimum parameters for geometry and material. MTC also focuses on analyzing and optimizing existing components using FEA/FEM simulations. To meet customer requirements, MTC relies on an in-house measurement laboratory. The personal commitment and expertise of the MTC team is appreciated around the world – from design-in consulting to development support and complete implementation.
For more information, please visit:
www.mtc.de
Über die MTC Micro Tech Components GmbH
Specialized full-range supplier
Reliable protection against electromagnetic radiation and against overheating of components and machines – MTC Micro Tech Components GmbH, headquartered in Dillingen (Bavaria), is specialized in the production and sale of innovative components for electromagnetic compatibility (EMC) and thermal management.
Since its foundation in 1992, the company has experienced steady growth and now operates internationally as an accomplished full-range supplier of EMC shielding materials and thermal management products. Comprehensive customer support, short response and delivery times as well as the greatest possible flexibility through its own in-house logistics are among MTC's core competencies.
Since October 2011, MTC has been part of the globally operating discoverIE Group plc, a leading international supplier of customized electronics. MTC is an independent company within the group. Thanks to the synergies with the British group, MTC will continue to expand its international presence in the future.
Customized individual solutions for the international market
In addition to its headquarters in Dillingen a. d. Donau, MTC also maintains a sales office in Hong Kong and production facilities in South Korea and Dillingen.
The extensive MTC product portfolio includes both standard and customized products manufactured to high quality standards. MTC customers benefit from professional consulting services and first-class service and support.
MTC supplies companies worldwide in all sectors, such as automation, automotive, avionics, information technology, medical technology, telecommunications, consumer electronics and renewable energies. The innovative products reliably protect customers' equipment and machinery from malfunctions caused by electromagnetic interference and from overheating.
Corporate principles and social commitment
The company's success is guaranteed by an exceptionally high level of customer orientation and corporate planning based on healthy growth. That is why MTC attaches great importance to a trusting relationship with employees, customers and suppliers, characterized by reliability, loyalty and mutual respect.
Social responsibility also grows with success. With the production site in Dillingen in premises of the Regens-Wagner Foundation, MTC promotes the integration of disabled people into everyday working life.
MTC is certified according to ISO 9001 and ISO 14001 and meets all requirements for an environmentally friendly business.
Firmenkontakt und Herausgeber der Meldung:
MTC Micro Tech Components GmbH
Hausener Straße 9
89407 Dillingen
Telefon: +49 (9071) 7945-0
Telefax: +49 (9071) 7945-20
http://www.mtc.de
Ansprechpartner:
Birgit Wünschmann
Telefon: +49 (9071) 7945-33
E-Mail: birgit.wuenschmann@mtc.de
Für die oben stehende Pressemitteilung ist allein der jeweils angegebene Herausgeber (siehe Firmenkontakt oben) verantwortlich. Dieser ist in der Regel auch Urheber des Pressetextes, sowie der angehängten Bild-, Ton-, Video-, Medien- und Informationsmaterialien. Die United News Network GmbH übernimmt keine Haftung für die Korrektheit oder Vollständigkeit der dargestellten Meldung. Auch bei Übertragungsfehlern oder anderen Störungen haftet sie nur im Fall von Vorsatz oder grober Fahrlässigkeit. Die Nutzung von hier archivierten Informationen zur Eigeninformation und redaktionellen Weiterverarbeitung ist in der Regel kostenfrei. Bitte klären Sie vor einer Weiterverwendung urheberrechtliche Fragen mit dem angegebenen Herausgeber. Eine systematische Speicherung dieser Daten sowie die Verwendung auch von Teilen dieses Datenbankwerks sind nur mit schriftlicher Genehmigung durch die United News Network GmbH gestattet.