MEYER YACHTS presents revolutionary concept at the Monaco Yacht Show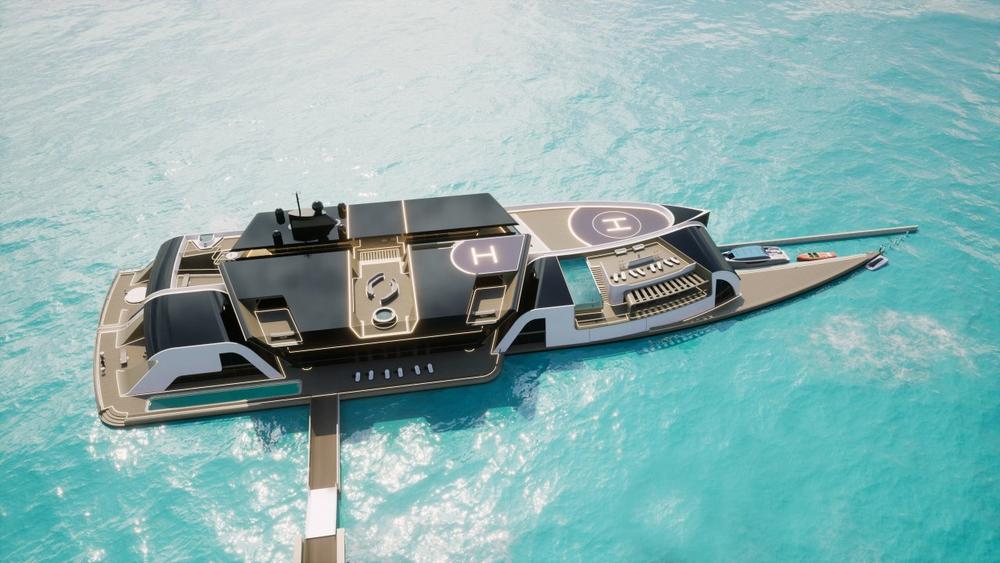 THREE05 combines superyacht and luxury villa
Combination of two business divisions of the MEYER Group
Interest in MEYER YACHTS is steadily increasing
Larger stand at Monaco Yacht Show 2023
Following the official launch of the brand at the Monaco Yacht Show 2021 and its own stand the following year, MEYER YACHTS will be presenting a revolutionary concept at the world's most important superyacht show from September 27 to 30. Following the ONE50 and TWO10, MEYER YACHTS developed the THREE05, a combination of a 125-metre superyacht and a 180-metre floating villa. With this, the MEYER Group combines its two business divisions MEYER YACHTS and MEYER Floating Solutions.
"The idea behind this concept is multifaceted," explains Thomas Weigend, Managing Director of MEYER WERFT. "Villa and yacht form a design and functional unit at anchor and thus the possibility of accommodating larger companies. At the same time, the THREE05 can also be a very private retreat complete with its own superyacht shuttle. The 180-metre-long Floating Solution, a floating and anchored villa, offers 2100 square metres of living space and, among other things, a helipad as well as a veritable marina that can accommodate guests' tenders, for example. The yacht itself has a volume of around 7,500 GT and, in addition to comfortable accommodation for up to 30 guests, can receive any entertainment solutions that a future owner may desire. "With this combination, which is 305 metres long in total, we are setting a new standard for luxury living on the water," says Thomas Weigend.
The 125-metre-long MEYER yacht is powered by an environmentally conscious hybrid technology consisting of fuel cells and batteries. Solar cells and wind turbines will be installed on the floating villa to generate energy and sustainable materials will be used for construction in order to live up to MEYER's claim of building as ecologically as possible. "The combination of MEYER YACHTS and our extensive experience in building floating villas at this scale makes our offering truly unique in the world market. We provide fully customizable solutions for owners looking for a perfect and one-of-a-kind home on the water," highlights Kaj Casén, CEO of MEYER Floating Solutions.
With the development of the THREE05, the MEYER Group underlines how important the superyacht segment is to it. At the stand at position JL5, directly at the entrance to the Principality, MEYER YACHTS will present a model of the THREE05 and one of the ONE50, as well as providing information on all MEYER YACHTS options with an expert team.
Large and complex ships are part of the MEYER Group's core competence. In the shipbuilding halls, which can be up to 504 metres long, ships with a length of almost 350 metres have been built almost exclusively for years. "Megayachts are a market segment that we can serve excellently at our shipyards. At MEYER it is always our ambition to position ourselves at the top – in terms of environmental protection just as much as now in terms of yacht size. MEYER YACHTS is currently receiving very interesting enquiries. The step to enter this market was the right one. The brand is already firmly positioned with the relevant players," says managing director Bernard Meyer, summing up the renewed appearance at the Monaco Yacht Show.
Firmenkontakt und Herausgeber der Meldung:
MEYER WERFT GmbH & Co. KG
Industriegebiet Süd
26871 Papenburg
Telefon: +49 (4961) 81-0
Telefax: +49 (4961) 81-4300
http://www.meyerwerft.com
Ansprechpartner:
Florian Feimann
Unternehmenskommunikation
Telefon: +49 (4961) 81-6133
Fax: +49 (4961) 81-4373
E-Mail: florian.feimann@meyerwerft.de
Für die oben stehende Pressemitteilung ist allein der jeweils angegebene Herausgeber (siehe Firmenkontakt oben) verantwortlich. Dieser ist in der Regel auch Urheber des Pressetextes, sowie der angehängten Bild-, Ton-, Video-, Medien- und Informationsmaterialien. Die United News Network GmbH übernimmt keine Haftung für die Korrektheit oder Vollständigkeit der dargestellten Meldung. Auch bei Übertragungsfehlern oder anderen Störungen haftet sie nur im Fall von Vorsatz oder grober Fahrlässigkeit. Die Nutzung von hier archivierten Informationen zur Eigeninformation und redaktionellen Weiterverarbeitung ist in der Regel kostenfrei. Bitte klären Sie vor einer Weiterverwendung urheberrechtliche Fragen mit dem angegebenen Herausgeber. Eine systematische Speicherung dieser Daten sowie die Verwendung auch von Teilen dieses Datenbankwerks sind nur mit schriftlicher Genehmigung durch die United News Network GmbH gestattet.