5 Reasons why Lithium Ion Batteries are best for Data Centres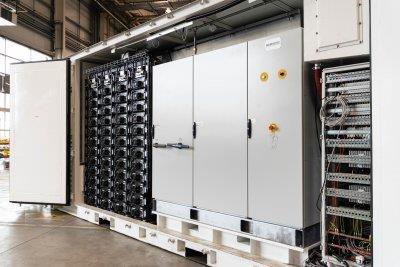 Lithium ion is far superior to lead acid as a battery chemistry for data centre applications because it delivers higher performance and a more reliable power supply, says temporary power solutions specialist Aggreko.
Uninterruptable power supply (UPS) batteries are useful means of ensuring power to a data centre is constant and unfluctuating, on top of providing a cost-effective bank of energy during times of higher grid demand. Power demand and the supply from its energy source must be at equal levels to ensure the data centre runs effectively, therefore, a battery can work in conjunction with the generators to provide consistent output and avoid downtime.
While some organisations have recently suggested the more traditional lead acid battery chemistry is the best option for data centres, Aggreko believes that the benefits of lithium ion batteries make them much better suited to the growing market for five key reasons:
1. Superior capacity, depth of discharge, and efficiency
Lithium ion technology tends to have a much higher energy density, can achieve an 85% depth of discharge compared to lead acid's 50%, and is usually 95% or more efficient, meaning almost all of the larger amounts of energy stored in the battery can be harnessed. For a data centre, this higher availability of power means that supply is readily available for longer and can keep up during periods of increased demand.
2. Longer Lifespan
Lithium ion batteries can achieve up to eight times the amount of cycles than their lead acid counterparts, therefore they can be implemented into data centres for longer and don't require costly replacement as often.
3. Better Software optimisation
Lithium ion batteries can be optimised using dedicated software, which can ensure the battery is charged and delivers its output in the most efficient way while preserving the units' lifespan. For a data centre, this means the power output can be monitored and the battery can be operated within its most optimal charge range of 30-80%.
4. Electricity Savings
To save on overall electricity costs, UPS batteries can be used as demand side response (DSR) units, when demand on the grid is exceeding supply. Additionally, they can be used as spinning reserve energy banks, using excess generator system energy. Lithium ion's higher capacity, depth of discharge and efficiency make them ideal for this application, with more energy stored. This ultimately translates into better cost savings from using less grid or generator power in high demand periods.
5. Continued research and development
Lithium ion technology is constantly undergoing development and being optimised, both in the static battery and automotive industries, and so using this battery chemistry means data centres will benefit from innovations at the forefront of the energy storage industry, on top of the cost reductions that come from added investment.
Often, data centres require generator systems and batteries for a limited time, for example when waiting for grid connection. To avoid unnecessary capital outlay, data centre providers can enlist companies such as Aggreko to provide modular rental solutions to be integrated into any size of facility, in many regions across the globe.
"We know the importance of having a reliable UPS solution for data centre providers," said Nick Osborne, Data Centre Specialist at Aggreko. "Our Y.Cube system, for instance, uses lithium ion technology to deliver the best performance for use as a modular UPS in data centre applications, meaning downtime and its ensuing costs are avoided.
"As a global temporary solutions provider, our flexible and standardised rental solutions and expert consultancy are available to data centre providers and operators across the entire globe, meaning any facility in any region can benefit from expert guidance and reliable power supplies," he adds.
For more information about Aggreko's lithium ion battery solutions for data centre applications, visit:
www.aggreko.com/…
Firmenkontakt und Herausgeber der Meldung:
AGGREKO Deutschland GmbH
Barbarastraße 62
46282 Dorsten
Telefon: +49 (2362) 95210
Telefax: +49 (2362) 9521299
http://www.aggreko.de/
Ansprechpartner:
Nick Whitaker
WPR Agency Limited
Telefon: +44 (7880) 381-667
Fax: +44 (7880) 381-667
E-Mail: nick@wpragency.co.uk
Lucy Gordon
MEPAX
Telefon: +34 (620) 065-719
E-Mail: l.gordon@mepax.com
Für die oben stehende Pressemitteilung ist allein der jeweils angegebene Herausgeber (siehe Firmenkontakt oben) verantwortlich. Dieser ist in der Regel auch Urheber des Pressetextes, sowie der angehängten Bild-, Ton-, Video-, Medien- und Informationsmaterialien. Die United News Network GmbH übernimmt keine Haftung für die Korrektheit oder Vollständigkeit der dargestellten Meldung. Auch bei Übertragungsfehlern oder anderen Störungen haftet sie nur im Fall von Vorsatz oder grober Fahrlässigkeit. Die Nutzung von hier archivierten Informationen zur Eigeninformation und redaktionellen Weiterverarbeitung ist in der Regel kostenfrei. Bitte klären Sie vor einer Weiterverwendung urheberrechtliche Fragen mit dem angegebenen Herausgeber. Eine systematische Speicherung dieser Daten sowie die Verwendung auch von Teilen dieses Datenbankwerks sind nur mit schriftlicher Genehmigung durch die United News Network GmbH gestattet.