Rohde & Schwarz presents economy vector signal generator for the automotive, IoT and education sectors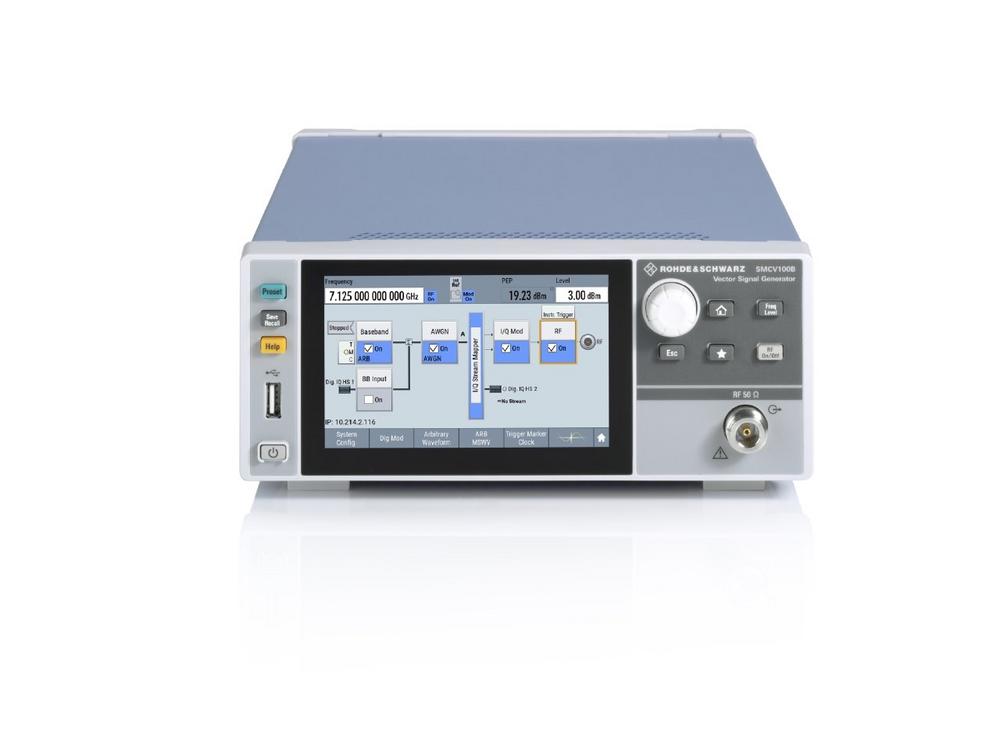 The new R&S SMCV100B vector signal generator targets automotive, broadcast, navigation and wireless applications. It is the first commercial multistandard platform and fully configurable with keycode options. The vector signal generator is ideal for numerous applications, ranging from the lab to production. Wherever different technologies converge, it can be perfectly adapted to specific application requirements.
The R&S SMCV100B is the first economy signal generator that covers the 5G NR extended FR1 frequency range up to 7.125 GHz, making it ideal for mobile communications applications. It also uses the R&S WinIQSIM2 simulation software. This software supports all common cellular and wireless connectivity standards, including standards for IoT and Wi-Fi (802.11xx) and many more. In total, more than 30 standards are available, along with an arbitrary waveform generator to output user-defined signals.
In the automotive industry, the R&S SMCV100B can be used for end-of-line testing of car radios or GNSS navigation equipment. Broadcast standards can be combined with mobile communications, wireless and navigation standards. For Go/NoGo tests, the generator can output GPS, GLONASS, Galileo and BeiDou signals of a single navigation satellite. Predefined, time-limited I/Q sequences can be output for functional tests with fixed satellite positions. As only one instrument is needed for a wide variety of applications, its flexibility allows it to be deployed at any time for other tasks on a production line. This minimizes the potential number of spare units and allows massive reduction of downtime on production lines.
FPGA based real-time coders for broadcast standards used worldwide are available. The R&S SMCV100B supports analog and digital radio standards as well as second and third generation digital terrestrial and satellite based television standards. This is the first economy platform that supports ATSC 3.0 in addition to the DVB-T2 and DVB-S2X standards.
The R&S SMCV100B uses an advanced direct RF concept to generate output signals for frequencies up to 2.5 GHz. This allows I/Q modulation and RF signal generation to be performed in the digital domain, virtually eliminating the I/Q imbalance errors and LO leakage commonly seen with conventional analog I/Q modulators. Thanks to the new concept, the SSB phase noise performance of the signal generator is very good. An analog mixing concept is used to generate frequencies above 2.5 GHz.
The high-performance, Linux based platform is completely extensible using software options. All options are present in the device firmware and can be activated with option keys as needed. This includes frequency extension up to 6 GHz or 7.125 GHz, increasing the RF modulation bandwidth to 250 MHz, raising the RF output power to 23 dBm and waveform streaming with up to 60 MHz (75 Msymbol/s) RF bandwidth. The memory depth of the ARB generator can also be extended from 64 Msamples to 1 Gsample.
As a general purpose instrument, the R&S SMCV100B can be deployed in every lab, in universities and schools as well as on production lines, for example in the automotive industry. It stands out on the lab bench with its low-noise cooling concept and compact dimensions.
The R&S SMCV100B vector signal generator for automotive, broadcast, navigation and various mobile communications applications is now available from Rohde & Schwarz.
Über die Rohde & Schwarz GmbH & Co. KG
Rohde & Schwarz is a leading supplier of solutions in the fields of test and measurement, broadcast and media, aerospace | defense | security and networks and cybersecurity. The technology group's innovative communications, information and security products help industry and government customers ensure a safer and connected world. On June 30, 2019, Rohde & Schwarz had 12,100 employees. The independent group achieved a net revenue of EUR 2.14 billion in the 2018/2019 fiscal year (July to June). The company is headquartered in Munich, Germany, and has subsidiaries in more than 70 countries, with regional hubs in Asia and America.
R&S® is a registered trademark of Rohde & Schwarz GmbH & Co. KG.
Firmenkontakt und Herausgeber der Meldung:
Rohde & Schwarz GmbH & Co. KG
Mühldorfstr. 15
81671 München
Telefon: +49 (89) 4129-0
Telefax: +49 (89) 412912-164
http://www.rohde-schwarz.com
Ansprechpartner:
Patrizia Mühlbauer
Europe
Telefon: +49 (89) 4129-0
E-Mail: press@rohde-schwarz.com
Tomas Berghall
North America
Telefon: +1 (503) 5239489
E-Mail: Tomas.Berghall@rsa.rohde-schwarz.com
Wen Shi Tong
Asia Pacific
Telefon: +65 (6) 307-0029
E-Mail: press.apac@rohde-schwarz.com
Customer Support Europe, Africa, Middle East
Telefon: +49 (89) 4129-12345
E-Mail: customersupport@rohde-schwarz.com
Für die oben stehende Pressemitteilung ist allein der jeweils angegebene Herausgeber (siehe Firmenkontakt oben) verantwortlich. Dieser ist in der Regel auch Urheber des Pressetextes, sowie der angehängten Bild-, Ton-, Video-, Medien- und Informationsmaterialien. Die United News Network GmbH übernimmt keine Haftung für die Korrektheit oder Vollständigkeit der dargestellten Meldung. Auch bei Übertragungsfehlern oder anderen Störungen haftet sie nur im Fall von Vorsatz oder grober Fahrlässigkeit. Die Nutzung von hier archivierten Informationen zur Eigeninformation und redaktionellen Weiterverarbeitung ist in der Regel kostenfrei. Bitte klären Sie vor einer Weiterverwendung urheberrechtliche Fragen mit dem angegebenen Herausgeber. Eine systematische Speicherung dieser Daten sowie die Verwendung auch von Teilen dieses Datenbankwerks sind nur mit schriftlicher Genehmigung durch die United News Network GmbH gestattet.