Bikinis, Blood, and Zombies Galore! "Onee Chanbara Origin" is Out Now for PlayStation®4 and PC!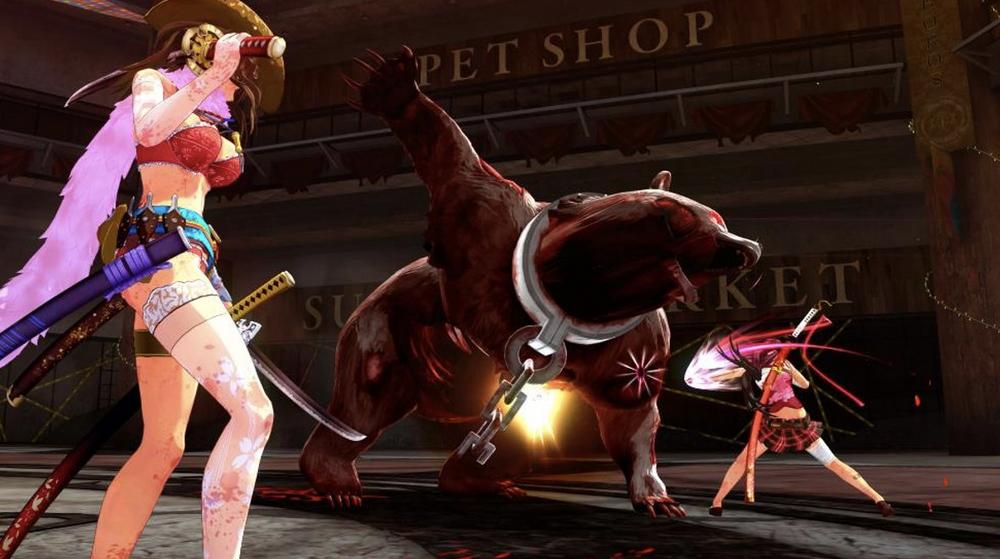 Developed by Tamsoft and published by D3PUBLISHER,
"Onee Chanbara Origin"
is a complete HD remake with all new art style graphics and optimized storytelling, combining both
"The Onechanbara"
and
"The Onechanbara 2"
games, which were originally released for PlayStation®2 in 2004 and 2005. Now for a new generation,
"Onee Chanbara Origin"
features all renewed main character designs, restyled by the new main character designer Katsumi Enami, a seasoned designer bringing his talents to the
"Onechanbara"
series for the first time.
"Onee Chanbara Origin"
tells a new interpretation of the story of the two half-sisters, Aya and Saki, bound by mutual hatred and locked in a brutal fight to the death, eventually overcoming their cruel fate and fighting alongside one another to find their father in this high-speed zombie slaying hack 'n slash series.
"Onee Chanbara Origin" key features include:
• Battle between Sisters: Play as both Aya and Saki, each with her own unique weapons and abilities, and players can tag-team between them on the fly or even perform team combos to maximize zombie annihilation.
• Fight the Undead: Slash and brawl your way through bloody hordes of mutated madmen zombies, policeman zombies with handguns, soldiers resurrected as zombies, and zombie bosses.
• Tons of Customisation and Replayability: Watch as the sisters fight their way in newly found sexy battle attires against the hordes of the undead.
• Combo in Style: Strike enemies with precise button presses that will link attacks into a "Cool Combination," emitting a blueish glow that increases movement speed and power, along with other buffs such as gaming access to an extra attack sequence during a combo.
• Go Berserk Mode: Both Aya and Saki can enter Berserk Mode by getting blood splatters on them from the zombies they kill to "corrupt" their bodies, gaining an immense boost in attack power, allowing them to hack-and-slash their way through hordes of enemies with ease.
• Become a Beast in Trance Mode: Maintaining Berserk Mode gives players the chance to then transform into a demon in Trance mode—a short burst of immense power and speed beyond Berserk Mode, but at the cost of life energy.
About "Onee Chanbara Origin"
"Onee Chanbara Origin" follows the zombie-hunters Aya and Saki's fate as they attempt to destroy one another, leading directly into the second entries in the series, "The Onechanbara 2." After the sisters overcome their rivalry, they ally themselves to embark on a journey to find their father, Oboro, after he leaves behind a message that names "Eva" as the mastermind behind his wife's death—as well as all of the chaos that ensued between the two sisters, including the vice that made Saki insane and hell-bent on avenging her mother. Little do they know they are coming even closer to the truth and their true enemy.
Play as a zombie hunter and battle through the stages with high-speed real-time swordplay, completing objectives and tasks while hacking and brawling through hordes of the undead. Each character's weapons become progressively covered in blood as players fight off zombies in gruesome detail. Occasionally, players may even transform into demons for short bursts of added power and energy with the downside of losing life energy. Each zombie hunter has her own unique abilities and skillful play is rewarded for cooler combinations. Players can enjoy the game with full English voice-acting or play through with the original Japanese performances with English subtitles.
"Onee Chanbara Origin" has been rated 18 by the PEGI. To stay up to date on the latest regarding "Onee Chanbara Origin," please visit the official website. D3PUBLISHER's website can be found at https://www.d3p.co.jp/ane_origin/en/.
Über D3Publisher of Europe LTD
D3PUBLISHER, a member of BANDAI NAMCO group, is a Japanese video game publisher. Established in 1992, the company has published console and mobile/online games from some of the industries most beloved franchises and series, including EARTH DEFENSE FORCE 5, Onechanbara, the Simple series, and more. For more information, visit https://www.d3p.co.jp.
Firmenkontakt und Herausgeber der Meldung:
D3Publisher of Europe LTD
Poseidon House, Castle Park
CB3 0R Cambridge
Telefon: +44 (1223) 322015
Telefax: +44 (1223) 347800
http://www.d3publisher.us
Ansprechpartner:
Scott Fry
ONE PR Studio
Telefon: 1 510-893-3271
E-Mail: D3P@oneprstudio.com
Sam Brace
Decibel-PR [for D3PUBLISHER]
E-Mail: D3P@decibel-pr.com
Für die oben stehende Pressemitteilung ist allein der jeweils angegebene Herausgeber (siehe Firmenkontakt oben) verantwortlich. Dieser ist in der Regel auch Urheber des Pressetextes, sowie der angehängten Bild-, Ton-, Video-, Medien- und Informationsmaterialien. Die United News Network GmbH übernimmt keine Haftung für die Korrektheit oder Vollständigkeit der dargestellten Meldung. Auch bei Übertragungsfehlern oder anderen Störungen haftet sie nur im Fall von Vorsatz oder grober Fahrlässigkeit. Die Nutzung von hier archivierten Informationen zur Eigeninformation und redaktionellen Weiterverarbeitung ist in der Regel kostenfrei. Bitte klären Sie vor einer Weiterverwendung urheberrechtliche Fragen mit dem angegebenen Herausgeber. Eine systematische Speicherung dieser Daten sowie die Verwendung auch von Teilen dieses Datenbankwerks sind nur mit schriftlicher Genehmigung durch die United News Network GmbH gestattet.